Thursday, June 15th, 2017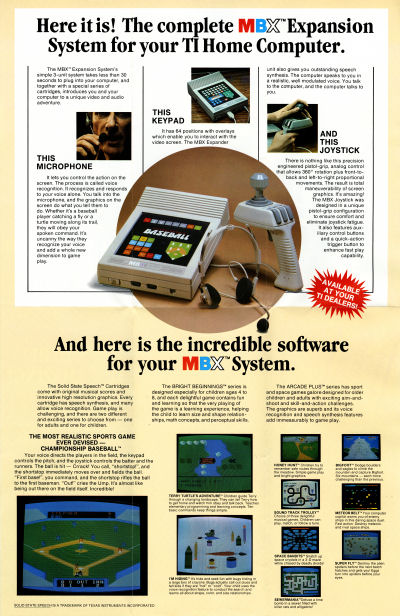 Milton-Bradley MBX Flyer: Side 2
The Milton-Bradley MBX, launched around 1983 for the TI-99/4A home computer, is a strange product: it combines a pistol-grip joystick with a rotating knob and analog control, a 64-position touch pad with overlays, and voice-recognition headset into one package that is supposed to enhance gameplay on specially-designed TI-99/4A games.
This neat TI-99/4A site has a history page about it, so I think I'll just snatch a portion that explains the MBX's origins:
Now that you have an idea as to what the MBX System is, below is a little history provided by Mike Langieri (the creator of the device). According to Mike, the MBX actually started out as a stand-alone game console in 1982 and was to be Milton Bradley's answer to the Atari 2600 and Intellivision. MB's plan was to provide the game player with voice recognition, speech synthesis, and an action-input keypad which in turn would give them an advantage over the systems already on the market.

Now how come MB did not go ahead with their own system in 1982? Once the Colecovision came out, Jim Shea (then president of Milton Bradley) thought that the market was not big enough to support 4 game systems from Atari, Mattel, Coleco, and Milton Bradley and therefore killed the project. However, so much development went into creating MB's own video game unit that Mike was then assigned to finding a use for all the technology they developed.

Eventually it was decided to transform Milton Bradley's gaming system to an add-on for the TI-99/4A, most likely due to the fact that MB had earlier developed the Gamevision line of video games for the 99/4A and also created the graphics chip used inside of the TI system. Thus, "the MBX was the phoenix that rose from the ashes" as Mike wonderfully put it.
It's amazing to think "What if" and wonder what a Milton-Bradley game console might have been like. I believe that Milton Bradley also originally tried to sell this idea to Atari, but they declined, and it ended up as a TI-99/4A peripheral. A non-rotating, non-analog variation on this joystick did end up as Atari's Space Age joystick, though.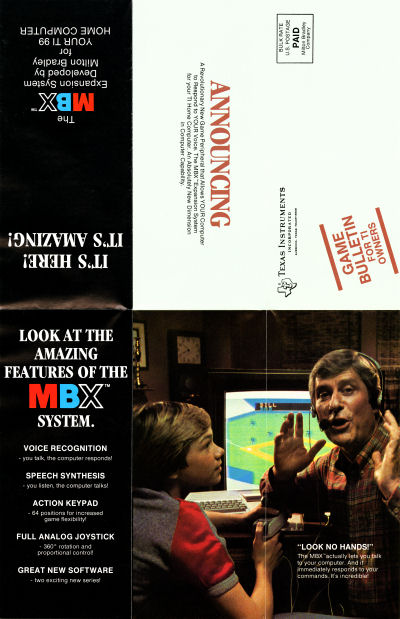 Milton-Bradley MBX Flyer: Side 1
I have a complete MBX system in the box (which may be where I got this flyer), but for some reason I have never used it. I think that's because I don't have any of the games that support it — or I didn't 17 years ago when I first bought my MBX on eBay. Right now I don't even know what box my MBX is stored in, so it would be hard to rectify that.
[ From Milton Bradley MBX Promotional Flyer, ca. 1983 ]
Discussion Topic: When was the first time you ever used voice commands with a computer?