Monday, August 18th, 2014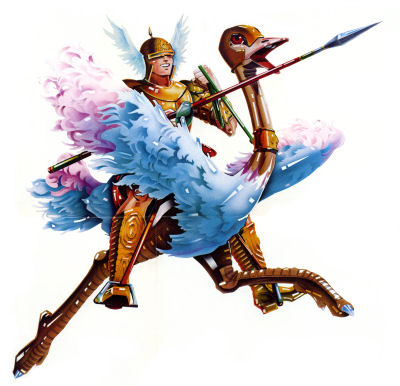 If I were riding a flying ostrich, I'd probably be smiling too.
I don't normally take scans out of context, but I made an exception for this amazing illustration. It comes from the instruction manual for Joust for the Atari 2600. I isolated the image years ago for possible use in one of my Halloween costume ideas posts, and I've been staring at it in my scans folder ever since.
Joust is one of my favorite arcade titles, and I'm particularly fond of the Atari 7800 home version.
I'd like to find out who created this glorious piece of video game art. I'll do some digging in a bit, but if you know already, please leave a comment and I'll update this post. (The illustrator may be referenced in the manual itself, but it's packed where I can't get to it.)
By the way, I think this illustration would look awesome on a t-shirt. Anybody want to make one?
[ From Joust Atari 2600 Instruction Manual – 1982]
Discussion Topic of the Week: Which is better: Joust or Balloon Fight?