Monday, February 10th, 2014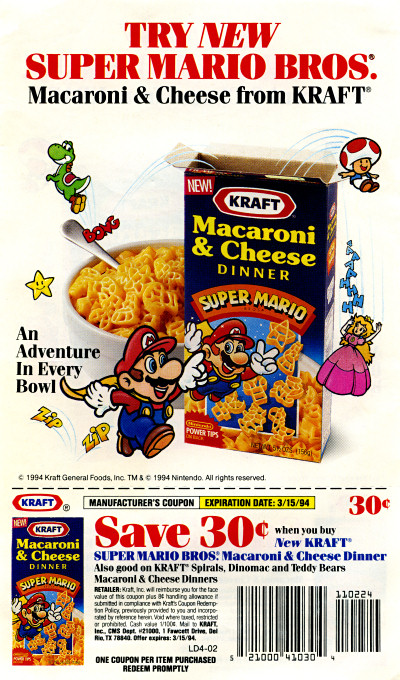 The princess has lost her floatation powers…and Yoshi loves bongs.
My mom saves everything. Case in point, I ran across a mountain of mid-1990s coupon flyers — the kind that arrive stacked in an envelope through the mail — at her house this afternoon while I was looking for some old papers. This particular 30-cents-off coupon for Kraft's Super Mario Bros. Macaroni and Cheese from 1994 caught my eye. It measures 4.5″ x 7.5″ (for those of you at home keeping notes).
I've never eaten Super Mario Bros. mac and cheese, but I bet it was every bit as delicious as the regular noodle variety. And besides — there was an adventure in every bowl.
[ From a coupon flyer mailing pack, ca. 1994]
Discussion Topic of the Week: Have you ever eaten any food products based on licensed video game characters?