Monday, January 4th, 2016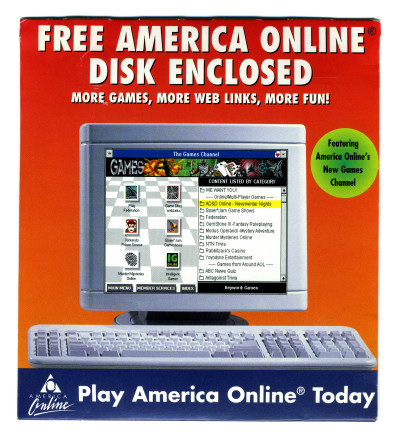 click on the image above to see front and back
I've previously featured a scan of an AOL CD, but so far I have not ventured into the world of America Online floppy disk packaging…until now. Here is a gaming-centric AOL giveaway disk package — still unopened — which I believe came with an issue of GamePro magazine I received as part of a subscription in 1996.
I love the AOL screenshot printed on the package here (possibly mocked up for marketing purposes) because it offers a rare glimpse into the mid-1990s AOL interface (with a Windows 3.1 window motif), centered on "The Games Channel." If anybody has a collection of AOL screenshots from the 1990s, I'd love to see them.
[ From AOL disk package, circa 1996, front and back ]
Discussion Topic of the Week: Did you ever play games on America Online back in the day? Tell us about it.