May 9th, 2011 by
Benj Edwards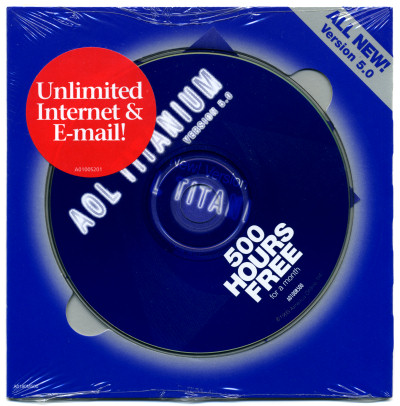 There are about 730 hours in a month.
You may remember getting one of these in the mail in the 1990s.
Ok, ok…you may remember getting dozens and dozens of these CDs in the mail. Some people used them as coasters, some as Frisbees. Some put them in the microwave to watch them sparkle. (To any kids reading: please don't try this.) Me? I collected them.
I saved just about every CompuServe, Prodigy, and America Online floppy disk or CD I ever received back then, and I amassed quite a collection. Some day I plan to write about these promotional disks more, but for now you'll have to be satisfied with this shiny blue AOL Titanium 5.0 CD from way back in '99.
[ From AOL Titanium 5.0 CD Mailer, 1999 ]
Discussion Topic of the Week: What did you do with all the promotional CDs and floppy disks you received in the mail?