Tuesday, January 24th, 2012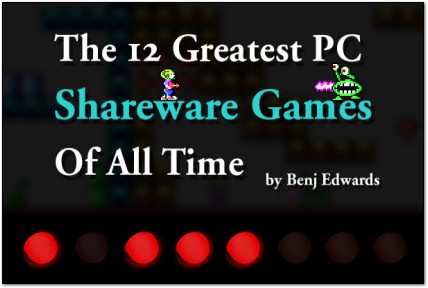 If you've read this blog for some time, you'll know that I'm a big fan of shareware games. Specifically, I love shareware from the "golden age of PC shareware," an era I just made up that roughly spanned 1988-1996.
And by "PC shareware," in this case, I mean IBM PC compatible. I was not involved in shareware or BBS scenes for non-IBM computers, so I am not nearly as familiar with them.
With that in mind, take a gander at this new slideshow over at PC World in which I attempt to pick the The 12 Greatest PC Shareware Games of All Time. Whether I have succeeded or failed is not exactly the point, because as I always say, you can never objectively rank greatness. But even if you don't agree with my picks, it should provide a fun journey down memory lane.
When you're done reading it, I'd love to hear from you guys — what are your favorite shareware games of all time? Feel free to bring other platforms into it if you want.
—
If you love shareware games, check out my 2009 interviews with the twin titans of PC shareware, Scott Miller of Apogee and Tim Sweeney of Epic MegaGames.