Monday, March 23rd, 2015
[ From Compute!, June 1982, p.15 ]
Discussion Topic of the Week: What's your favorite static-screen graphical adventure game of all time?
Monday, September 1st, 2014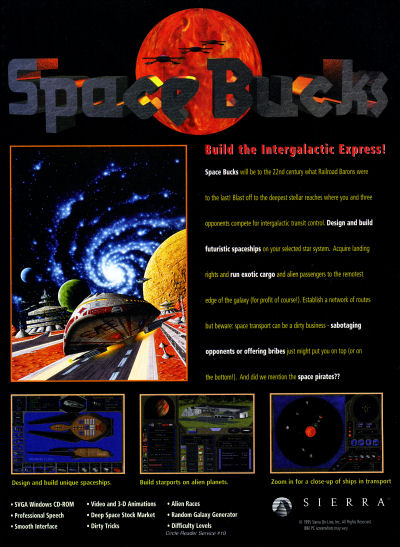 So now we've entered the 3D font era.
I've never played Sierra's Space Bucks, but it looks like a fascinating strategy game. I was a big fan of SunDog: Frozen Legacy on the Atari ST, so I'm a sucker for any game that shows the inside of your spaceship from a top-down view (even if only in a non-functional splash screen). Has anyone out there played it?
(As an aside, when I started this blog in 2005, I could just say "I've never played this game, does anyone out there know anything about it?" And get away with it. That's because very little game info was out there; Wikipedia had very few video and computer game entries — especially obscure ones — and MobyGames was incomplete. Now I have no excuse for not looking it up myself. And what do you know: here's a Wikipedia entry on Space Bucks, first created in 2012.)
I have this feeling that most Windows games from the 1995 era slipped through the cracks and were mostly forgotten. It's my impression that not many people played early games created for Windows 95 and late-period games made for Windows 3.11. Maybe it's because the IBM PC world was in the middle of a big transition from MS-DOS / Win 3.11 to Windows 95. I remember still buying MS-DOS games well into 1997, for example.
[ From Computer Gaming World – September 1995, p.55]
Discussion Topic of the Week: What was the earliest game you bought that ran exclusively on Windows 95/98?