Monday, February 25th, 2013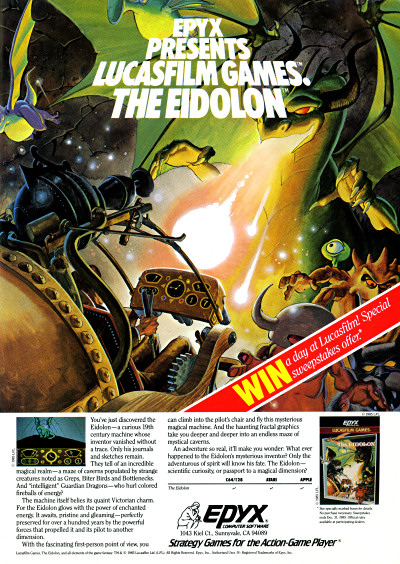 Disney now owns this game.
In 1985, LucasFilm Games released one of the earliest first-person shooters, although they didn't know it at the time. In The Eidolon, players fluidly navigate corridors from a first-person viewpoint, shooting monsters that they encounter along the way.
The Eidolon utilizes a novel and technically impressive vector graphics engine to dynamically generate tunnel interiors from various angles as players maneuver through them. The engine also served as the basis of other LucasFilm titles like Rescue on Fractalus! (1984) and Koronis Rift (1985).
Although this game appeared on the Atari 8-bit computer platform (which I grew up with), I never got a chance to play it until about ten years ago. If I had seen it in the 1980s, it would have immediately become a favorite.
[ From Compute!, November 1985, p.33 ]
Discussion Topic of the Week: What's your favorite pre-1996 first-person shooter?