April 24th, 2017 by
Benj Edwards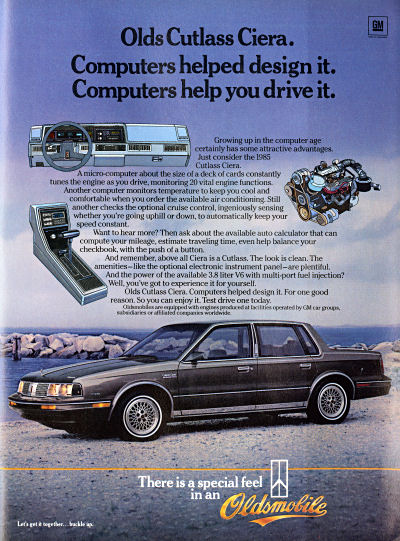 Our 1984 model: Only 3,000 superfluous wheel spokes to clean
Microprocessor technology hit the automotive world in a big way in the 1970s and 80s — car manufacturers began integrating microcontrollers into their products, and that move paid off with features like increased fuel efficiency, better cruise control, and more accurate climate control.
Some computer-related advantages in the automotive industry predated the invention of the microprocessor, however. In 1964, GM began using CAD software on IBM mainframes to help design the cars themselves. These computer design systems were some of the earliest to allow the manipulation of 3D models and the use of light pens for designer input. Their invention pushed forward the state of the art and practically invented the concept of CAD itself.
By the 1980s, manufacturers were touting products replete with computer-related perks, as this 1984 Oldsmobile Cutlass Ciera ad shows very well. Olds even provided an option for an integrated push-button digital calculator that could "help balance your checkbook."
I've transcribed the ad copy below so you can read it more easily.
Growing up in the computer age certainly has some attractive advantages. Just consider the 1985 Cutlass Ciera.

A micro-computer about the size of a deck of cards constantly tunes the engine as you drive, monitoring 20 vital engine functions.

Another computer monitors temperature to keep you cool and comfortable when you order the available air conditioning. Still another checks the optional cruise control, ingeniously sensing whether you're going uphill or down, to automatically keep your speed constant.

Want to hear more? Then ask about the available auto calculator that can compute your mileage, estimate travel time, even help balance your checkbook, with the push of a button.

And remember, above all Ciera is a Cutlass. The look is clean. The amenities — like the optional electronic instrument panel — are plentiful. And the power of the available 3.8 liter V6 with multi-port fuel injection? Well, you're got to experience it yourself.

Olds Cutlass Ciera. Computers helped design it. For one good reason. So you can enjoy it. Test drive one today.
And hey, don't forget about the role computers have played in automotive navigational systems. Consider the Etak Navigator, for example, which introduced computer-assisted navigation to cars for the first time in 1985. (I wrote about Etak in detail for FastCompany in 2015.)
The Downside of Computerized Cars
Today, most cars have hundreds of integrated microcontrollers doing everything from controlling the exhaust to toggling the headlights. The software-run car has been an incredible innovation, but it also has some significant drawbacks.
This reliance on software brings in new opportunities — through DRM — to put up unreasonable restrictions for people trying to maintain or repair their own vehicles. DRM also keeps small auto shops from being able to repair cars without paying huge fees to car manufacturers for licenses of specialized equipment. That's why the Right to Repair is so very important. I've written previously about other problems with DRM for The Atlantic.
It's looking like cars will become entirely self-driving very soon; computers are now beginning to replace drivers themselves. This brings up all kinds of potential DRM and privacy issues — for example, will you ever be able to go anywhere in a self-driving car without a big computer database knowing about it?
Don't get me wrong. I'm still excited about the potential of these exciting new technologies. I would love to have a car that drives itself. But with so many disruptive innovations in the car industry coming soon, we are going to have our hands full trying to sort them all out both legally and ethically.
[ From Discover, November 1984, p.67 ]
Discussion Topic: What was the make and model of the first car you ever drove?