Monday, April 24th, 2017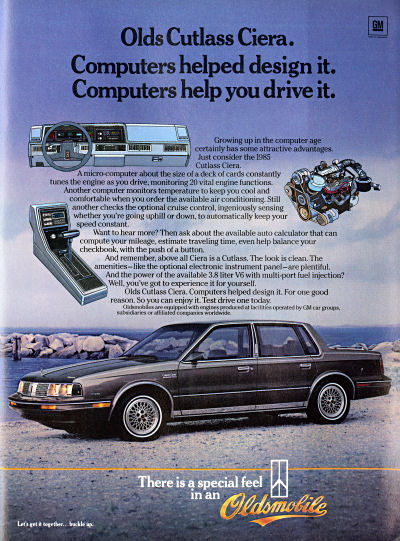 Our 1984 model: Only 3,000 superfluous wheel spokes to clean
Microprocessor technology hit the automotive world in a big way in the 1970s and 80s — car manufacturers began integrating microcontrollers into their products, and that move paid off with features like increased fuel efficiency, better cruise control, and more accurate climate control.
Some computer-related advantages in the automotive industry predated the invention of the microprocessor, however. In 1964, GM began using CAD software on IBM mainframes to help design the cars themselves. These computer design systems were some of the earliest to allow the manipulation of 3D models and the use of light pens for designer input. Their invention pushed forward the state of the art and practically invented the concept of CAD itself.
By the 1980s, manufacturers were touting products replete with computer-related perks, as this 1984 Oldsmobile Cutlass Ciera ad shows very well. Olds even provided an option for an integrated push-button digital calculator that could "help balance your checkbook."
I've transcribed the ad copy below so you can read it more easily.
[ Continue reading [ Retro Scan ] The Promise and Peril of Computer-Cars » ]