March 10th, 2006 by
Benj Edwards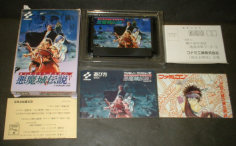 Welcome back to RedWolf's New Adventures in Famicom Land. Our latest trip takes us to an exciting island called "Akumajou Densetsu," which promises to shower us with interesting music unlike any we've ever heard before on the Famicom or NES. That's because Akumajou Densetsu, or the Japanese version of Castlevania III: Dracula's Curse, uses the VRC6 chip, which provides for three extra sound channels (in addition to the Famicom's original five). And Akumajou Densetsu utilizes those three extra channels brilliantly. Unfortunately, due to some hardware setup in the NES that I don't understand, the US games could not utilize these extra sound channels. As a result, the music for Castlevania III had to be rewritten and simplified for the US release.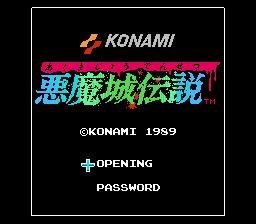 I had heard tales of how cool the music is, but I always wanted to hear for myself. So I bought a copy of Akumajou Densetsu recently and plugged it into my new AV Famicom. I was confronted with a flurry of new low bass notes and more complicated percussion. Sure, the music is nowhere near up to SNES snuff, but it's an incredible experience nonetheless — Castlevania III's music is some of the best on the NES. The rest of the game is the same as far as I can tell (except that, for some reason, the jumping "Igors" in the US version were changed from jumping demonic frog-like things in the Famicom one), so if you're serious about Castlevania III, then it's worth it to pick up this cart and a real Famicom to experience the music as originally intended. FCEU seems to emulate the music pretty well, but I highly recommend getting the real thing.
Jake, if you don't have a copy of this, you should definitely get it.