November 4th, 2013 by
Benj Edwards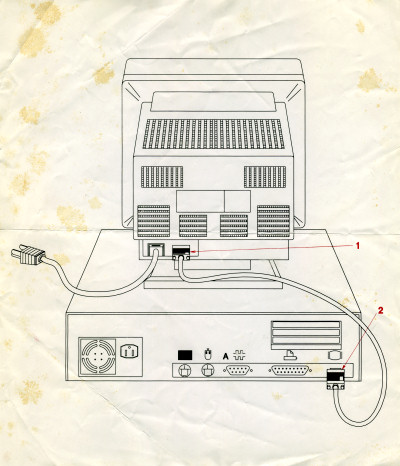 Step 1: Plug the monitor into the computer.
This roughly 7″ x 10″ sheet came packed with my brother's 486SX 25MHz IBM PS/1 computer, which my dad bought him right before he started college. (Ah, the days when 486 was king.)
We were still installing programs off 5.25″ floppies then, and boy was that an adventure when the PS/1 insisted that its 3.5″ floppy drive was drive A:. Most programs assumed that drive A: in MS-DOS was always a 5.25″ drive (with the 3.5″ drive, if present, being drive B:), which screwed up many install scripts when you had to install off a set of 5.25″ disks.
What the sheet shows is almost mind-numbingly self-explanatory — how to hook the monitor up to the computer. It reminds me of these ridiculous USB plug-in instructions.
By the way, I left the authentic mold stains on the scan because I think they add character. The back of the sheet is blank.
[ From IBM PS/1 pack-in notes, circa 1994 ]
Discussion Topic of the Week: Have you ever owned an IBM brand computer when it was new?