August 11th, 2014 by
Benj Edwards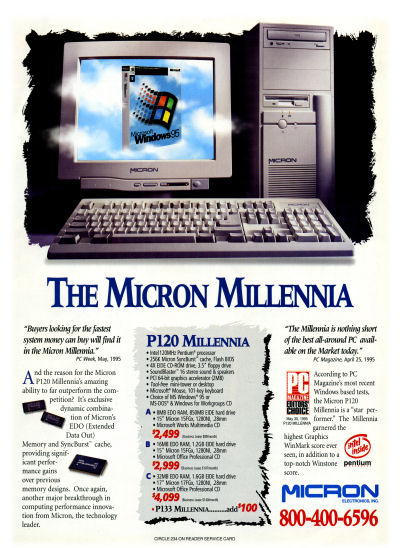 Ah, the beige box era.
What could $6,410.55 buy you 19 years ago? (That's $4099 adjusted for inflation.) Well, if you picked a Micron Millennia, you could get a 120 MHz Pentium CPU, 32 MB of RAM, a 1.6 GB hard drive, a 17-inch monitor, a 4X CD-ROM Drive, a SoundBlaster 16 sound card, 2MB 2D graphics card, a minitower or desktop case, a Microsoft mouse and keyboard, Microsoft Office, and Windows 95.
That's a lot of stuff. And yet most people's smartphones today pack far, far more power and functionality than that in a pocket form factor with a 10 hour battery life. It's all about integration, baby. More functions in fewer, smaller chips. I love it.
[ From ComputerLife – October 1995, rear cover]
Discussion Topic of the Week: Tell us about one of your beige box PCs from the 1990s. Who made it, and what did it have inside?