September 22nd, 2014 by
Benj Edwards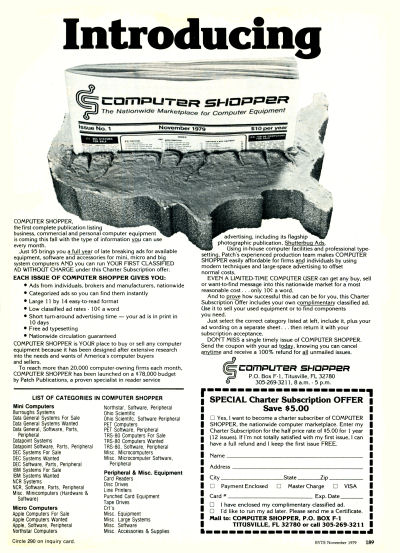 "The most divisive magazine in the USA."
Veterans of the computer scene will no doubt recall Computer Shopper, a massively large (11″ x 14″, later 10″ x 13″) and thick (usually around 1.25″) monthly publication that mostly ran classifieds and paid advertisements for PC vendors. The magazine ended its print run in 2009, 30 years after it launched.
I only know when it launched because of this advertisement for the launch of Computer Shopper that appeared in the November 1979 issue of Byte. It's interesting to see a legend at its birth.
I was never a huge fan of Computer Shopper, since it was essentially a month's worth of computer junk mail stuffed into an awkward and almost unreadibly-large magazine format. But I did respect it as a mainstay of the computer industry — as familiar as a phone book and as timely as a newspaper. May she rest in peace.
[ From Byte Magazine – November 1979, p.189]
Discussion Topic of the Week: Did you ever read (or more accurately, peruse) Computer Shopper? What are your memories of the publication?