December 29th, 2014 by
Benj Edwards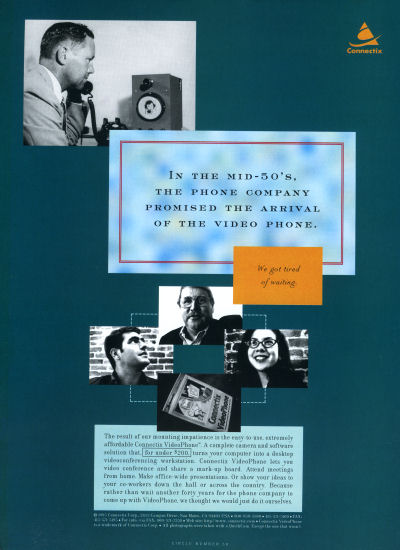 Even black and white was amazing once
Once upon a time, companies tried to achieve video phone calls using non-networked, proprietary point-to-point devices such as the AT&T VideoPhone 2500 (RSOTW, 2010) — almost all of which utilized traditional telephone lines or ISDN.
Then the Internet came along and blew the field wide open. Suddenly, video chat could happen over any data transfer medium that supported TCP/IP, and it could be routed around the world to any node on the Internet. Connectix's VideoPhone software (circa 1995) was one of the first consumer video chat products to take advantage of the Internet. Using the software and the company's QuickCam digital camera (arguably the world's first webcam), folks could video conference all over the world — albeit in black and white.
For more on the history of video phones and video chat, check out this piece I created for Technologizer back in 2010.
[ From Internet World – February 1996, inside front cover]
Discussion Topic of the Week: When was the first time you ever made a video call or did video chat?