December 22nd, 2014 by
Benj Edwards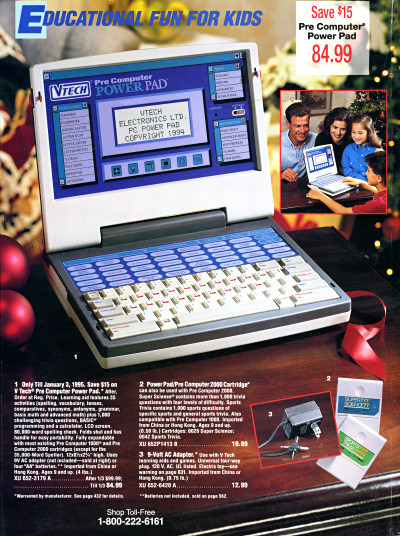 Christmas morning wouldn't be the same without a PreComputer Power Pad
I'm a big fan of educational, semi-toy computers like the VTech PreComputer Power Pad (seen here in his scan from the 1994 JCPenney Christmas Catalog) because historians and collectors alike often completely overlook them in study of computer history.
I've previously written about the much more famous VTech Pre Computer 1000 and even did a slideshow on kids' computers for PCWorld back in 2011.
I don't have a Power Pad at the moment, but I do have a few other educational computers, including some featured in that slideshow. My favorite is probably the VTech I.Q. Unlimited or the Tiger Learning Computer. But we'll save those for another day.
Merry Christmas from Vintage Computing and Gaming
[ From JCPenney Christmas Catalog – 1994, back cover]
Discussion Topic of the Week: Did you ever own any educational or kids' computers? Tell us about them.