May 4th, 2015 by
Benj Edwards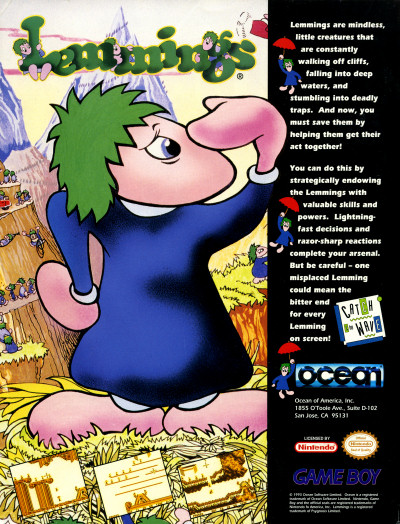 Biggest Lemming I Ever Seen
My brother received the IBM PC port of Lemmings as a gift (probably for Christmas) in the early 1990s. It made a distinct impression in my young mind, with its vivid VGA graphics, a playful MIDI soundtrack, and charismatic little creatures that you could bid to do your every whim.
I have never played the Game Boy version, but this ad caught my eye.
When I wrote a feature about the most ported games of all time for 1UP.com back in 2007, Lemmings featured prominently with ports to 28 systems up to that point in time. What can I say — Lemmings is a classic.
[ From Electronic Gaming Monthly, November 1993, p.48]
Discussion Topic of the Week: What's the best Lemmings-like or Lemmings clone game? (Other than Lemmings, of course — The Humans and Baldies come to mind.)