November 23rd, 2015 by
Benj Edwards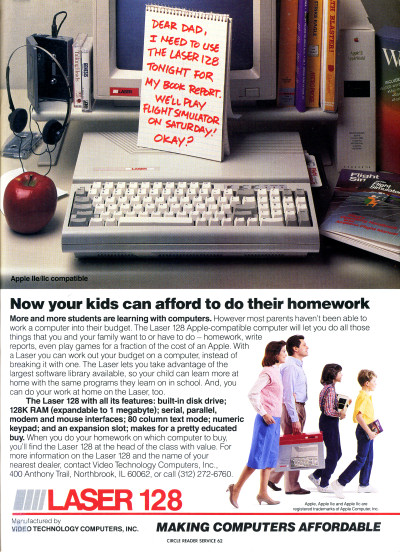 A family on the move
This Apple II-clone machine became popular in the mid-late 1980s as a low-cost alternative to the Apple IIc (almost half the price but twice the RAM — scratch that, Apple IIc had 128K too), especially for home use. I have a Laser 128 in nearly pristine condition in the box, and it feels nice to use. It echoes the integrated form factor of the IIc, which makes it convenient to setup in a pinch if you need to pull out an Apple II in an emergency. Or at least that's how I use it.
Happy Thanksgiving from VC&G
[ From Family and Home Office Computing, November 1987, p.69 ]
Discussion Topic of the Week: Do you have any Thanksgiving computer or gaming traditions? Tell us about them.