January 25th, 2016 by
Benj Edwards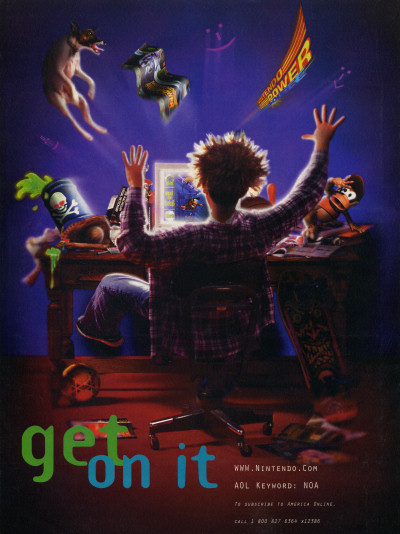 Crap. I spilled toxic waste on my keyboard again.
I've always wondered who made these in-house Nintendo promos/ads for Nintendo Power magazine. Most of them were fairly well done over the years. This vivid promo, featuring Nintendo's early website in 1995, is probably one of my favorites. It also mentions AOL (keyword "NOA"), of course, which was still a big online player at the time.
By the way, anyone who can convincingly explain (with in-world fiction, not marketing) the presence of a poison/toxic waste barrel on this kid's desk wins 10 cocoa points. Even Diddy Kong sitting there makes more sense.
[Update: 02/01/2016 – It turns out that the toxic waste barrel is actually a boss character named Dumb Drum from Donkey Kong Country. Special thanks to etranist for pointing that out in the comments. ]
[ From Nintendo Power, August 1995, back cover ]
Discussion Topic of the Week: What's the first video game website you ever looked at online?