January 3rd, 2017 by
Benj Edwards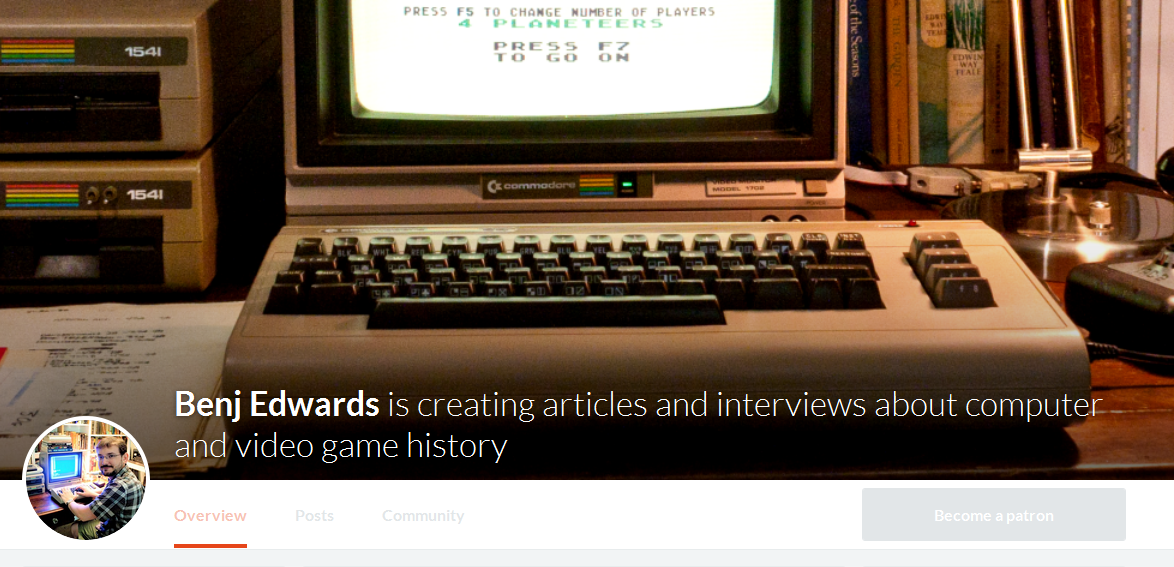 [ Update – 01/09/2016: I just launched my Patreon campaign this morning. You can see it here. ]
The Problem
Here I am. It's 2017. I've been writing professionally for over a decade now, and I'm not going to lie: I don't make much money. I support a family of four, health insurance keeps going up every year no matter what I make, and freelance budgets at publications are trending down. Competition is fierce.
What I'm trying to say is that my professional focus, as it stands now, is not sustainable in the long run. I can see the writing on the wall.
So I'm considering various options. One is a career change. But that is a hard trick to pull off. Maybe I could be a professional graphic designer, as I once was many years ago. I don't have a degree, so getting a full-time job is tricky. Maybe I could run off and join the circus. Maybe I could run off and join Burger King.
The Solution
In lieu of making burgers for the rest of my life, I am guessing is that you guys would like to see me keep doing what I'm doing: preserving video game and computer history — telling the important, forgotten stories that need to be told. But it's really hard to make a living doing that these days. It's possible, but hard. I could use every bit of help I can get.
If you want to see me stay the course, continuing to build on what I've been doing since 2005, this is your chance to help.
I'm considering launching a Patreon campaign that would supplement my freelance income (or replace it entirely if it comes to that) by funding deep dives into history and never-before-seen interviews that will be published on this site, VC&G.
Right now I mostly do slideshows to make ends meet, but I'd rather spend all of my time writing meaningful history work and interviewing historically important people before their stories are lost forever. Support from Patreon will help me do that.
I Want Your Feedback
What I'd like to know from you guys is what you'd think about this idea, and I have some specific questions for fans of my work.
Would I be compromising my reputation to take money from crowdfunding? Do you think the campaign would be more successful if I promote it as a way to support me personally, or as a way to support Vintage Computing and Gaming as a site?
Also, what kind of work would you like to see from me the most? Any ideas for rewards? (I'm considering an eBook collection of the interviews I've conducted over the years, or maybe some kind of Retro Scan of the Week collection.) Your feedback, in whatever form, will be greatly appreciated.
So before I announce the Patreon campaign to a wider audience, here's your chance to either encourage me or talk me out of it before I make a fool out of myself.
You guys have been supporting my work spiritually for years, so I deeply respect your opinions. Your support is the reason I have kept at this job even in the years when it was very hard to make ends meet. I keep doing this because I love it, and because I feel I am doing a service to history itself.
So take a look at my Patreon promotional video above, and let me know what you think. I appreciate your help, as always.