January 8th, 2017 by
Benj Edwards
Today's the big day. I just launched a Patreon Campaign with the aim of supporting my history work.
Click here to become a Patron of Benj Edwards and VC&G.
Also, I am doing a livestream Q&A at 1:30 Eastern today.
Here's some of the info from the Patreon page repeated below for future reference.
Who are you?
My name is Benj Edwards and I am a freelance journalist. I have been writing almost exclusively about computer and video game history for over a decade now.
In 2005, I started Vintage Computing and Gaming, a tech history blog which I still maintain (you may have seen my Retro Scans over the years).
In 2007, I began writing tech history articles for sites such as 1UP, PC World, Gamasutra, Ars Technica, Macworld, Wired, PCMag, Technologizer, The Atlantic, FastCompany, and more.
Why do you need my support on Patreon?

I love to write well-researched, in-depth history pieces, but they take a lot of time and effort to create. To date, few publications have been able to fully fund the work it takes to write a quality in-depth feature with original research. Original research means I take the time to track down the actual people involved in the topics I write about and interview them. So I have developed a rhythm of doing mostly slideshow work, with a few large features a year that are partially self-funded.
After years of going it alone and racking up debt to make these articles a reality, it's time to either find another source of funding (Patreon) or consider changing careers and give up history work. I'd rather keep doing what I'm doing.
If I get enough support on Patreon, I can write deeply-researched pieces about the untold stories of the computer and video game revolution all the time, non-stop. I will publish them on Vintage Computing and Gaming.
What is Patreon?
Patreon is a way for individuals to come together using small monthly payments to support someone doing important or interesting work. If everyone who supports that work gives a few dollars a month, when combined, it can make a big impact.
What will you write with my support?

My goal is to write at least one big tech history feature a month and publish it on Vintagecomputing.com. After publication, I will make my research interview transcriptions available to select Patreon supporters.
Here are some examples of deeply-researched history pieces I have written in the past — and that I hope to write more of in the future:
Each of those articles took months of research — tracking down people and interviewing them, reading vintage magazines, books, and newspapers, contacting museums and archives — to complete. With your support, I can write "deep dive" articles like those frequently.
What kinds of interviews will you do?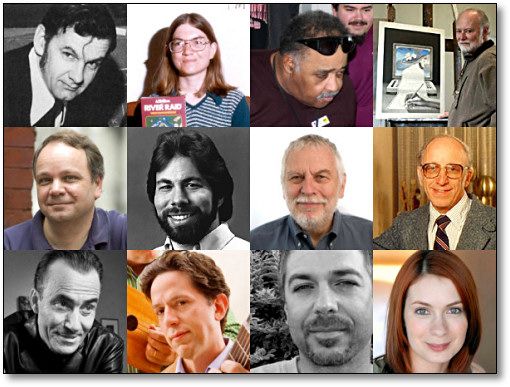 I've done plenty of big-name interviews in the past: Steve Wozniak,
Nolan Bushnell, Ralph Baer, Sid Meier, Trip Hawkins, Tim Sweeney, etc.
(Links to those can be found on
my personal website or on VC&G.)
But what I'd really like to pursue are the important folks that no one has heard of before. For example, here are some of the most important interviews I've ever done — all of which involve subjects that had never done extended print interviews previously.
Bill Harrison, the engineer who physically built the world's first TV video games
Carol Shaw, Atari's first female video game designer
Jerry Lawson, Co-creator of the first cartridge-based console and black video game pioneer
Bill Harrison is now blind and has severe Alzheimer's, Jerry Lawson passed away in 2011, and Carol Shaw pretty much never talks to the media. If I had not interviewed them, their important voices would not have been heard.
In addition, I have already conducted interviews with other key figures in video game and computer history that have never been published, and likely never will be without your help: they take a long time to transcribe and format for publication, and while their historical value is enormous, their commercial appeal is limited, so I can't sell them as freelance pieces. Your support will bring those interviews to light — I will publish them regularly on Vintagecomputing.com.
What will I get if I support you?
Aside from getting to read everything I write, you will get neat rewards depending on how much you give every month (see sidebar on the right).
Thanks so much for your support. With your help, we can preserve history for future generations.
Click here to become a Patron of Benj Edwards and VC&G.