June 6th, 2017 by
Benj Edwards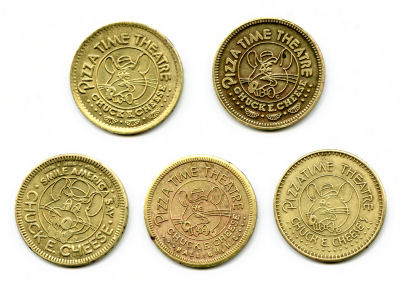 Five early 1980s Pizza Time Tokens from Benj's Collection
Chuck E. Cheese's Pizza Time Theatre launched 40 years ago last month — on May 16, 1977. To celebrate the anniversary, I wrote a long feature about the origins of the pizza chain for FastCompany that they published last week.
While researching the article, I recalled my childhood token collection (pseudo numismatic, as they say) that likely had a few vintage Chuck E. Cheese specimens. After checking, sure enough, I found five authentic Pizza Time game tokens dated from the years 1980, 1982, and 1983.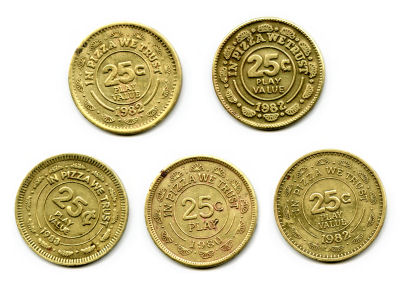 The reverse side of the tokens seen above — In Pizza We Trust
They were in pretty grody shape, replete with corrosion on their presumably brass finishes. I wanted to scan some for the article, so I shined them up with Brasso, and here they are.
While I was looking for the tokens, I happened upon my vintage game ticket collection (yeah, I like to collect, ok?). Of course, there were three vintage Chuck E. Cheese tickets in there, which can be seen below: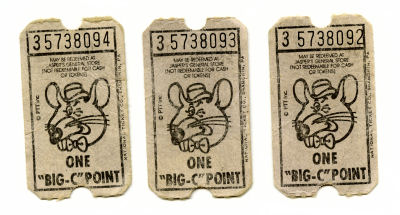 Pizza Time tickets that "may be redeemed at Jasper's General Store"
All of these artifacts came from a local Pizza Time Theatre located on Wake Forest Rd. in Raleigh, NC during the very early 1980s. I think it was there from about 1980 to 1983 or 84. I remember going there as a kid, being mystified by the robots and terrified by the man in the Chuck E. Cheese walk-around costume.
At that time, Pizza Time was unlike any other restaurant experience, and I count myself fortunate to have experienced it during its original run. To learn more about its history, check out my article.
[ From Original Pizza Time Tokens (1980, 1982, and 1983) and Tickets (early 1980s) ]
Discussion Topic: Tell us your earliest memories of Chuck E. Cheese and Showbiz Pizza.