May 10th, 2006 by
Benj Edwards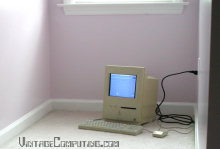 For those of you who didn't know or don't remember, the reason why VC&G has been quiet lately is because I'm in the middle of moving to a new house. After I'm settled, things will be back to normal (I also got married on May 1st. So you can imagine that I've been quite busy). Until then, I've got a few pictures for you. The first picture (above) is of the first computer I set up in my new house. It's a Mac Color Classic that I'm currently slowly playing The Secret of Monkey Island on (great game, by the way). I set it up in a little dormer nook in an otherwise empty room upstairs. In lieu of proper furniture, it gets the next best thing: the floor. When the hustle and bustle of all the moving gets to me, I can retreat to my "Mac room" and relax. But not for very long, of course, because there are plenty more computers to move! Chop chop!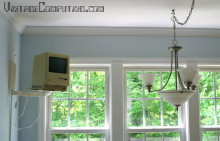 Remember my "Compact Mac Shelf?" Well, I've had to leave that luxury behind. The closest I can get to that in my new place is what you see here. The previous owners left this wall-mounted TV stand in the kitchen, and upon first seeing it, I didn't think "TV." I thought…well, you can tell what I thought, because the picture illustrates it quite vividly. Anyway, if the wife lets me, I might rig up some sort of useless-but-fun interactive Mac art installation. Then again, it's likely that we'll actually just put a color TV up there (if we ever get one that size). Still, I thought the new "Mac Shelf" was worth a picture.
That's all for now. I'll still be chatting some in the VC&G Forums before I get back up to full steam again, so join in the fun (Haven't joined yet? Why not?). And don't worry — more interesting and original VC&G articles are definitely on the way.