June 1st, 2006 by
Benj Edwards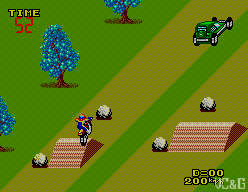 My absolute favorite Sega Master System game is Enduro Racer. It's based on a Sega arcade title of the same name, but the play style is completely different. Instead of the "behind the rider" view of the arcade, you get a 2/3 overhead view of the action. The coolest thing about the SMS version Enduro Racer are the bike upgrades — there's something really satisfying about souping up your motorcycle with an improved "suspension" and watching it soar over the strategically placed ramps on the course. And who can forget "engine," which makes your bike run so fast that it can be hard for your brain and fingers to keep up (Note: if you get that upgrade you should avoid the ramps).

I always play the game with the Sega Control Stick, which I feel makes quick maneuvering around obstacles easier. It also somehow adds to the motorcycle feel of the game. That's about the only time my Sega Control Stick ever gets used.
The biggest bummer regarding Enduro Racer is the fact that there are only five tracks. In the course of the game, you play the tracks twice: once with only one opponent (a car or another motorcycle), and again with two opponents at a time. But when it's all over, there's quite a surprise treat at the end. Think of it as a little philosophy, Enduro Racer-style. Let's take a look at what happens when the credits roll.
So there you have it. To all you life riders out there: the next time you put down an apparently dinky-looking 8-bit game, think back to Enduro Racer — a deceptively simple interactive experience that, when it's over, ends up transcending all media and teaching you new things about the very meaning of your existence.