June 5th, 2006 by
Benj Edwards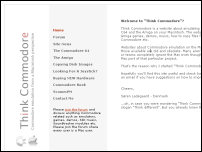 Søren Ladegaard recently sent me news of his new Commodore-related website. Sure, there are plenty of Commodore-dedicated sites out there, but this one has a twist — it's geared exclusively towards Apple Macintosh users. He writes:
I have created a website called Think Commodore. It's about everything Commodore 64 & Amiga such as emulation, games, demos, music etc. from a Macintosh perspective. While there are tons of sites about Commodore emulation for Windows users you'll be surprised of the amount of sites along the lines of "last update 2002, Mac OS 8.5 required etc." That's why I decided to do a Commodore emulation site that's 100% up-to-date.

I've created a real nice and active forum too. I was fed up with posting "Any Mac users out there?" on all the popular Commodore forums. Here's your chance to join a Commodore forum where every user is a Mac user.
After poking around the site myself, I find it quite nicely designed and very informative. If you're a Mac user and you love Commodore computers, be sure to check it out (www.thinkcommodore.com).