August 10th, 2006 by
gnome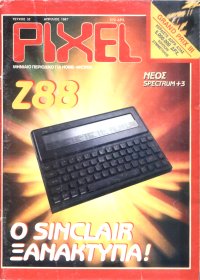 [ Please welcome our Greek ambassador of vintage computing, Gnome, to VC&G with his first contribution. ]
Having sold everything (including the right to use his own name) to Amstrad, Sir Clive Sinclair came up with a cunning plan. He would release his next computer under a new company (Cambridge Research) and call it something appropriately Sinclair-ish: Z88.
The Z88, besides being the last computer ever produced under the wise guidance of the Uncle himself, and despite featuring such Sinclair trademarks as a shoddy membrane keyboard and a Zilog Z80A CPU, was quite an interesting and quirky little machine. It also was (well, probably was) the first affordable portable computer — a full-fledged 8-bit laptop, actually, and the true forerunner to modern PDAs.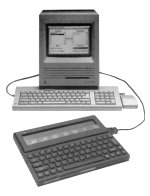 Running on just four AA batteries, the Z88 managed to provide its crisp built-in LCD display (made by Psion) with almost twenty hours of power. Imagine it: true mobile computing, all those years back, in distant 1987, for less than 200 pounds. Other than mobility, the machine featured a powerful spreadsheet / word-processor combo, a calculator, a calendar, file managers, a BBC-micro based BASIC, and a full pseudo-multitasking OS (called OZ) in its tiny ROM. It also had the ability to address up to 4MB of RAM, take ROM cartridges, and communicate with other (admittedly more powerful) computers through a standard RS-232 port.
The little beast even got a few games developed for its A4-sized self. Nothing spectacular, mind you, but Toad, ManicMiner, and Scrazble are still worth a look, even if it's only an emulated one. To actually have said "look," and for the full emulated pleasure, click here, install the appropriate software, place your PC on your lap, and listen to something from the Pet Shop Boys. It will be worth it, and you'll be quite the spectacle too.
A final note: Pixel Magazine (Issue 32, April 1987, seen above) was for years the premier Greek home computing magazine and sadly died along with the Amiga and the 16-bit era.