October 28th, 2006 by
Benj Edwards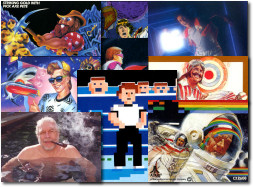 With Halloween only three days away, it's getting quite late in the game to figure out what you're going to dress up as this year. Here to the rescue, as always, is VC&G with the second of two parts on last-minute Halloween costume ideas. The first part dealt with vintage computer-related costumes. This second part deals exclusively with video game-related costumes. So if you're desperate for some ideas, feel free to take a look what we've cooked up for you below. And by all means, share any of your own ideas with us as well.
Special thanks to Matt of Video Game Obsession for providing the Urban Champion and 3-D World Runner scans used below.
If you like these, here's even more costume ideas:
2010 Video Game Edition
2009 Video Game Edition
2008 Video Game Edition
2007 Video Game Edition
2006 Computer Edition
Urban Champion
Urban Champion Costume Recipe:
1980s short-sleeved blue t-shirt pulled over a long-sleeved green t-shirt
Green sweatpants
A pair of red Converse Chuck Taylors with blue soles
Pixelated manhole to knock buddy into
The unending will to fight
In-Character Behavior: Be prepared to hold several no-holds-barred street brawls with random people on street corners that you encounter along your Halloween route. Avoid old ladies with flower pots, manholes.
—
Human Cannonball
Human Cannonball Costume Recipe:
Italian complexion
Black handlebar mustache
Evel Knievel star-spangled jumpsuit and helmet
Flight goggles
Large target to smash into
And, of course, a cannon
In-Character Behavior: Wheel around your cannon and offer to shoot people out of it. When no one accepts your offer, do it yourself. Pretend to be launched from your cannon by jumping out of it and screaming, "Aaayyiiaiaaahhhh!" After landing, stand up, dust yourself off, and loudly announce, "Everyone relax; I'm alright."
—
Keith Courage
Keith Courage Costume Recipe:
White shirt, pants
Brown knee pads
Red wrist bands
Blue body armor
Ultra-masculine demon-faced tiara
Glowing plasma sword
In Character-Behavior: Walk stiffly without bending your elbows or knees, except when jumping. Thrust your sword at people dressed as monsters, making sure to kill them thoroughly. After a while, if you get tired of being regular Keith and come across a pagoda, you can jump into a mech suit and start walking really fast.
—
Treasure Master
Treasure Master Costume Recipe:
Radical 1980s baseball cap with upturned brim
Radical 1980s neon-pink digital watch
Radical 1980s neon-yellow wrist bracelet
Radical 1980s sunglasses
Radical 1980s spiky hairdo
Radical 1980s t-shirt
Radical 1980s JAMS or similar iridescent shorts
In Character-Behavior: Essentially, try not to get beaten up. Although the Treasure Master is popular, some guys might be jealous of your awesome style.
—
Nintendo Power Cyborg Zombie
Nintendo Power Cyborg Zombie Costume Recipe:
Stainless steel colander with oven knobs, AC power cords, plastic bottle caps, wires, and two rolled up Nintendo Power issues attached to it
Blue/Green 1980s sweatshirt
NES control pad, with cord leading to pants
Pixelated yellow aura generator
Ridiculous grin
In-Character Behavior: Hand people copies of Nintendo Power magazine and tell them how, unlike previously, they are now playing with power. Use your thumbs, use your eyes; find yourself Tetrisized.
—
Pick Axe Pete
Pick Axe Pete Costume Recipe:
A pickaxe
The name "Pete"
Blue jeans
Red/white checkerboard shirt with rolled-up sleeves
Leather prospectin' hat
Leather prospectin' vest
Leather prospectin' boots
In-Character Behavior: Prospect as if your life depended on it! Dig at random spots in the ground with your trusty pick-axe. Look for gold and…keys, I suppose.
—
Super Breakout Astronaut
Super Breakout Astronaut Costume Recipe:
Astronaut suit
Three ping pong balls
Dead-serious Clint Eastwood-like facial expression
(Optional) rainbow piñata to break apart with a bat
In-Character Behavior: Pretend to play racquetball in zero-g conditions against an invisible opponent while stoically making blip noises out of the side of your mouth.
Alternately, repeatedly bounce a ping pong ball off the ground as you walk along a sidewalk. If you lose all three that you're carrying, go home in shame without any candy.
—
3-D World Runner
3-D World Runner Costume Recipe:
3-D World Runner boots
Flaming nipple jumpsuit
Red/blue anaglyph 3D glasses
An ounce of moxie
In-Character Behavior: Jump over everything you see, bounce off of columns on buildings, avoid mushrooms, drink liquids in Erlenmeyer flasks, and toast marshmallows on your flaming nipple jets.
—
Spike
Spike Costume Recipe:
Giant, inverted-star head-body
Spindly little legs
Gruff, digitized voice synthesizer
Triangle shoes
In-Character Behavior: Begin by stating "Oh no. Molly." out loud. Shuffle side to side down the sidewalk, jumping over random segments as if they were endless black pits. Climb any ladders you see. If you fall down while doing this in your weird costume, say "darnit."
—
Klash Ball Player
Klash Ball Player Costume Recipe:
All-metal football uniform with spikes
(found at any local sporting goods store)
Metal klash ball
Somebody to elbow in the head
In-Character Behavior: Run around yelling "KLASH!" while elbowing people in the head. The goal of the game is to elbow as many people's heads as possible within a 30-minute time frame while possessing the klash ball. When the cops arrive, tell them about the ways of the future.
—
Jumpman
Jumpman Costume Recipe:
Shiny white warm-up pants
Red vest with lots of pockets, loops, and a name tag
Heather grey t-shirt
White and red "jump boots" (felt booties)
White and red "jump bands" (wrist bands)
In Character-Behavior: Just incessantly jump around and climb ladders. People will get the idea.
—
Pro Wrestling Referee
Pro Wrestling Referee Costume Recipe:
Generic referee uniform
Blocky pixel chin
Ability to cast shadows in weird directions
In Character-Behavior: Stand around smiling until somebody (usually drunk out of their mind) falls to the ground. Get down on your knees and pound the ground your hand while counting to three by repeatedly making a "Bwoooaaoow" sound with your mouth. Then, just to throw 'em a curve ball, give 'em the 'ole double-back-suplex-flip for good measure.
—
Swimming Nolan Bushnell
Swimming Nolan Bushnell Costume Recipe:
Curly white hair, beard, mustache
Pipe and tobacco
Swimming pool / body of water
Tight red Speedos
In Character-Behavior: Wade around in the water, smoking, while talking about Atari, Sente, Axlon, Chuck E. Cheese's Pizza Time Theaters, uWink, how those scheming creditors took all your money, and about how much modern video games suck. Then do a few laps in the pool, humming the theme song from Pong (ok, you got me on that one…just stay silent).
—
So that's all for the video game side of things. Feel free to share any ideas you have for costumes or report about your Halloween exploits in the comments below. Happy Halloween!
If you liked these, here's even more costume ideas:
2010 Video Game Edition
2009 Video Game Edition
2008 Video Game Edition
2007 Video Game Edition
2006 Computer Edition