October 27th, 2006 by
Benj Edwards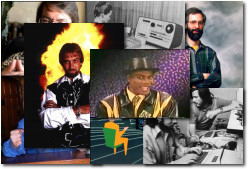 With Halloween only four days away, it's getting quite late in the game to figure out what you're going to dress up as this year. Here to the rescue, as always, is VC&G with the first of two parts on last-minute Halloween costume ideas. This first part deals with vintage computer-related costumes. The second part will deal exclusively with video game-related costumes and will be published soon. So if you're desperate for some ideas, feel free to take a look what we've cooked up for you below. And by all means, share any of your own ideas with us as well.
By the way, if you like these, here's even more costume ideas:
2010 Video Game Edition
2009 Video Game Edition
2008 Video Game Edition
2007 Video Game Edition
2006 Video Game Edition
Lord British
Lord British Costume Recipe:
One Renaissance-festival-reject-bin tunic
One Set of black tights
One Ankh/serpent pendant
Five Intricate silver rings (no, not Of Power — for your fingers)
One Set of floppy faux leather boots
One Plastic (gold-plated) crown, if possible
One Portable bonfire on rollers to stand in front of for dramatic effect
In-Character Behavior: Autograph random objects you encounter with a "Lord British" signature. Proclaim, in a kingly and sophisticated manner, how much Electronic Arts blows donkey balls. Offer to show people your "castle."
—
MC Double Def DP (aka "Don't Copy that Floppy" Rapper)
MC Double Def DP Costume Recipe:
One Shiny black pork pie hat
One Garish yellow and black tie
One Garish yellow and black leather jacket
One Garish yellow collared shirt
Five Floppy disks to taunt people with
In-Character Behavior: Walk around pulling floppies out of people's hands (if you can find any) while chiding them about copying commercial computer games. In fact, chide them about copying commercial software programs regardless of what they're doing. And of course, be prepared to recite the "Don't Copy That Floppy" rap on demand.
—
Dan Bricklin
Dan Bricklin Costume Recipe:
One Full, dark beard (For 1980s Brick, otherwise mottled grey and black)
One Pair of plastic-framed glasses
One Plaid wool long-sleeved shirt
One Pair of "Regular Fit" Lee jeans
One Rugged leather belt with brass buckle
One Large, sharp axe
One Set of lumberjack boots
In-Character Behavior: Alternate between randomly yelling "Timber!" and "VisiCalc Rules!" while jumping off of low walls and over small bushes. React to someone yelling "Hey, Brick!" with a deep "Yo" while holding up your axe in a reaffirming fashion.
—
Pilot from Flight Simulator II
Pilot from Flight Simulator II Costume Recipe:
One Spherical, featureless pink head
One Sharply-angled, polygonal yellow body suit
Zero Feet
One Plain green stadium fan seat
One 50-inch floating computer monitor
In-Character Behavior:
Be mute and mysterious. Project dramatic offset shadows while hovering five feet or more off the ground. Pretend to fly a plane without moving any part of your body.
—
Will Wright
Will Wright Costume Recipe:
One Hawaiian print t-shirt
One Pair of large, metal-framed glasses
One Grizzled Van Dyke
One Copy of The Sims to remind people who you are
Two Gigantic canvas bags stuffed full of money from sales of The Sims and its progeny
In-Character Behavior: Chuckle lightly and attach the prefix "Sim" to every noun you say. For example, "Hey SimGuys, how's the SimWeather?" and "Hey, SimLadies, how about coming back to my SimPlace for a SimGame of The Sims?" Also, brag about how completely mind-blowingly awesome and groundbreaking Spore will be.
—
Computer Secretary of the Future
Computer Secretary of the Future Costume Recipe:
One 1960s Pencil Skirt
One Quiet, acquiescent demeanor
One Conservative bun / beehive hairdo
1,000 Pounds of obsolete mainframe computing equipment built into a desk
In-Character Behavior: Pose beside your equipment, beaming with exuberant happiness, but be silent. Remember that product model women in the 1950s and 60s didn't talk, they just smiled a lot. Get a male friend in a suit to explain the virtues of the "paperless office" while you type away on the teletype/keyboard.
—
Bloody, Screaming Steve Wozniak
Bloody, Screaming Steve Wozniak Costume Recipe:
One Full beard
One Set of prominent cheekbones
One Sheet of uncut, folded U.S. currency in back pocket
One Pint of fake blood
Thirty Extra pounds
In-Character Behavior: Scream like you're being repeatedly stabbed in the chest. Woz probably does this all the time as a practical joke anyway.
—
"Dirty Hippie" Steve Jobs
"Dirty Hippie" Steve Jobs Costume Recipe:
One Scruffy, untrimmed 5-day old beard and mustache
One Dead hamster (replicates the stench of not having showered in ten days)
One Pair of Birkenstock sandals
One Easy-going buddy to boss around and take advantage of
In Character-Behavior: At parties, eat only fruit. Be ready to call everyone you meet an asshole, then spontaneously meditate or break out crying.
—
So that's all for the computer side of things — let us know how your Halloween goes! Coming soon is "VC&G's Last-Minute Costume Ideas for Video Games," so stay tuned.