Saturday, October 28th, 2006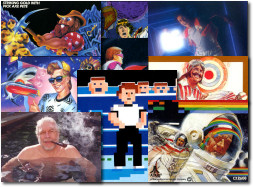 With Halloween only three days away, it's getting quite late in the game to figure out what you're going to dress up as this year. Here to the rescue, as always, is VC&G with the second of two parts on last-minute Halloween costume ideas. The first part dealt with vintage computer-related costumes. This second part deals exclusively with video game-related costumes. So if you're desperate for some ideas, feel free to take a look what we've cooked up for you below. And by all means, share any of your own ideas with us as well.
Special thanks to Matt of Video Game Obsession for providing the Urban Champion and 3-D World Runner scans used below.
[ Continue reading VC&G's Last Minute Halloween Costume Ideas: Video Game Edition » ]