December 17th, 2019 by
Benj Edwards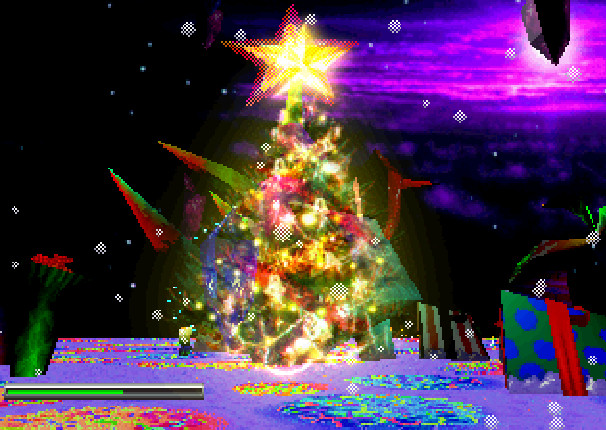 The Christmas Games of Yesteryear
Of the tens of thousands of video and computer games released since the 1970s, few have featured Christmas themes. That's surprising considering that the holiday is an insanely popular topic in other forms of media (especially movies–the number of Christmas-themed films could probably fill the Grand Canyon).
Here are twelve video and computer games, all released more than ten years ago, that dared to buck the trend. Some failed, some succeeded, but all tried to deliver holiday cheer with Santa, sleighs, elves, evil snowmen, flying turkey helicopters, and other beloved symbols of Christmas.
Many were released on more than one platform; whenever possible, I've included the cover art for all of the versions. Some of the games are still available, and I've given links to the ones you can download online. Our list of Christmas games is not exhaustive, though, so if you have a favorite that we left out, please share it in the comments.
Get ready for a classic! This slideshow article was originally published on PCWorld.com on December 20, 2009 under the title "The Ghosts of Christmas Games Past."

Since the PCWorld version has broken images and is in jeopardy of disappearing (and I retained the rights to the piece), I decided to republish it here for historical reference. It's still a great read! — Benj
—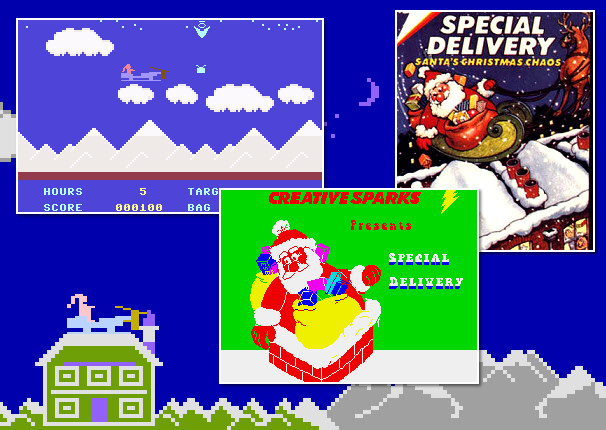 Special Delivery: Santa's Christmas Chaos
Creative Sparks, 1984
As one of the earliest known commercially available Christmas video games, Special Delivery is also the most primitive game–both in graphics and in gameplay–on this list. In this title, Santa pilots a sleigh through the skies while picking up presents apparently dropped by angels. It's a lousy game overall; nevertheless, Creative Sparks released it on three platforms, each version with its own cover art.
Platforms: Atari 8-bit (background), Commodore 64 (left), ZX Spectrum (right)
—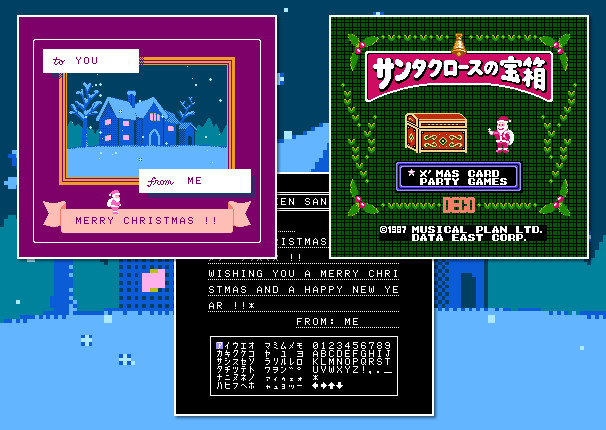 Santa Claus no Takarabako
Data East, 1987
Data East published this obscure game (whose title roughly translates to "Santa Claus's Toy Box") solely in Japan for the Famicom Disk System, a disk-drive add-on for the Japanese NES. This game serves as a digital Christmas card, wherein the user can type a custom message that scrolls across the screen under an image of an idyllic snow-covered house. When that gets boring, the player can choose from a selection of gambling games such as roulette and slots. If your family likes to gamble on Christmas, this game is for you.
Platform: Famicom Disk System
—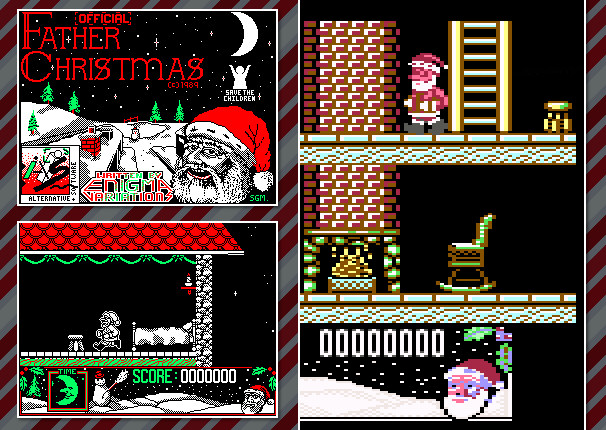 The Official Father Christmas
Alternative Software Ltd., 1989
In this somewhat ambitious title, Santa Claus must first collect pieces of his sleigh in his house while avoiding his elves, who, bizarrely, make Santa drop what he has found if they touch him. Once the sleigh is assembled, Santa must fill it with toys in another scene where the playthings fall from the sky in his "Grotto." Then it's off to deliver the gifts by dropping them into children's houses. Santa must accomplish all of this before the sun rises, or those precocious elves take over and make him look bad by delivering all the toys for him.
If you must play this title, try to track down the C64 version; it features the best graphics.
Platforms: Amstrad CPC (left), Commodore 64 (right), ZX Spectrum (not shown)
—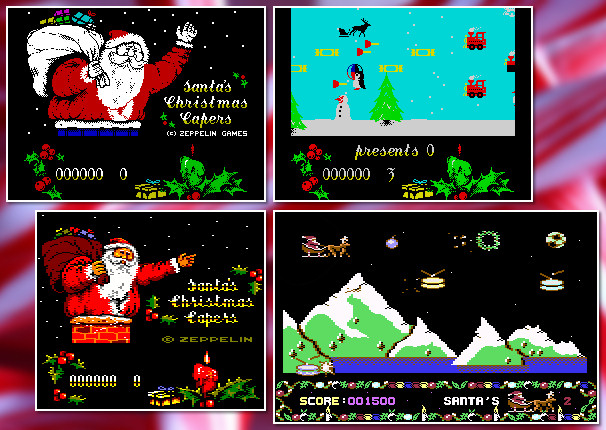 Santa's Christmas Capers
Zeppelin Games Limited, 1990
Santa's Christmas Capers has the player taking the role of Santa in a Gradius-style, horizontal-scrolling shoot-'em-up game. Santa's sleigh shoots wreaths at various animated toylike objects as he makes his way through the wintry stages. As an idea, the game is not too bad, but it fails on execution: The controls are clumsy, and it's just too difficult.
Platforms: ZX Spectrum (top), Amstrad CPC (lower left), Commodore 64 (lower right)
—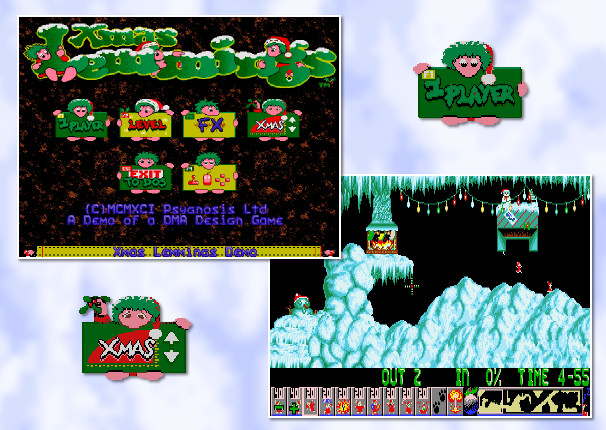 Xmas/Holiday Lemmings
Psygnosis Limited, 1991-1994
In 1991 and 1992, Psygnosis released two four-level demo versions of its popular Lemmings puzzle game with a Christmas theme, both entitled Xmas Lemmings. The player must guide the Lemmings (wearing Santa hats) over snowy, Christmasy terrain to reach a goal safely. In 1993 and 1994, Psygnosis released two follow-ups, called Holiday Lemmings, made in a similar vein.
You can download the freely distributable Xmas Lemmings games (1991 and 1992), as well as a demo version of Holiday Lemmings 1993, and play them on an old DOS PC or through an emulator such as DOSBox.
Platforms: PC (shown here), Amiga, Macintosh
—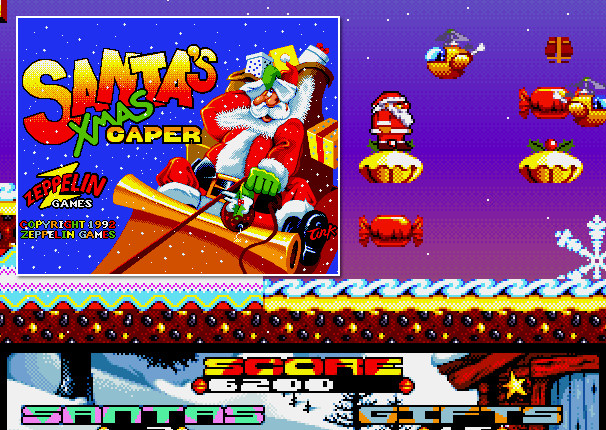 Santa's Xmas Caper
Zeppelin Games, 1992
Despite having a similar title to Santa's Christmas Capers and sharing the same publisher, this Amiga/PC-only amusement is of a completely different genre. In this colorful adventure, Santa explores wintry areas and collects presents while throwing snowballs at bizarre enemies like anthropomorphic clocks and flying turkey helicopters. The Amiga and PC versions are nearly identical, but neither is particularly worth playing.
Platforms: Amiga (shown here), PC
—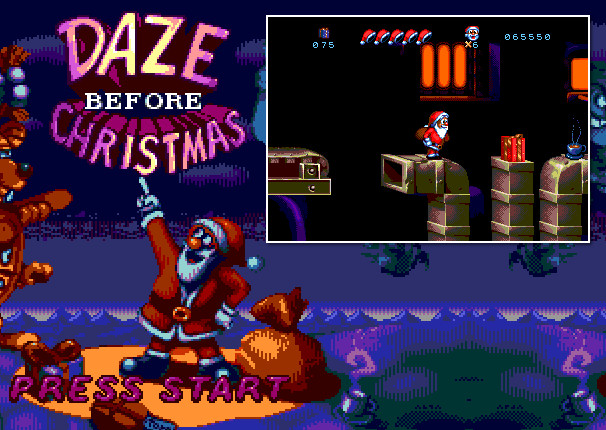 Daze Before Christmas
Sunsoft, 1993
This lushly illustrated and fluidly animated title is not only one of the few Christmas games ever released for a home console, but also one of the best Christmas games ever made. In it, Santa must rescue his elves and reindeer from an evil snowman. Curiously, if Santa collects a cup of coffee, he turns into a devil-like "Anti-Claus" that hits foes with his sack. Daze Before Christmas is a must-play if you manage to find it for the Genesis or the Super NES.
Platforms: Sega Genesis (shown here), Super NES
—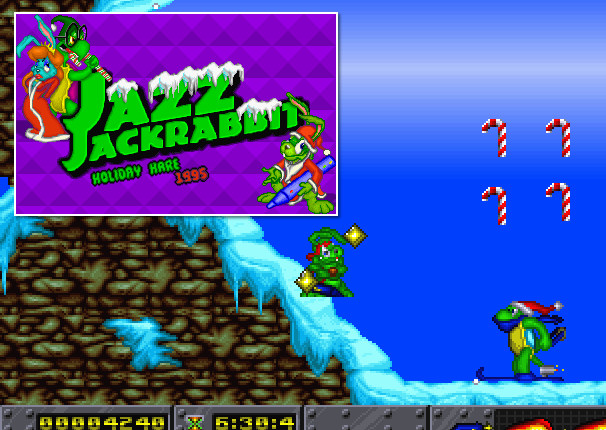 Jazz Jackrabbit Xmas Edition/Holiday Hare 1995
Epic MegaGames, 1994-1995
In 1994, shareware giant Epic MegaGames (which later dropped the "Mega" and found greater fame developing Gears of War) promoted its new Sonic-like action game, Jazz Jackrabbit, with a Christmas-themed shareware demo. The company did the same in 1995 with another demo called Holiday Hare.
You can download the original Jazz Jackrabbit Xmas Edition. If you don't have an old DOS PC to play it on, investigate an emulator such as DOSBox.
Platform: PC
—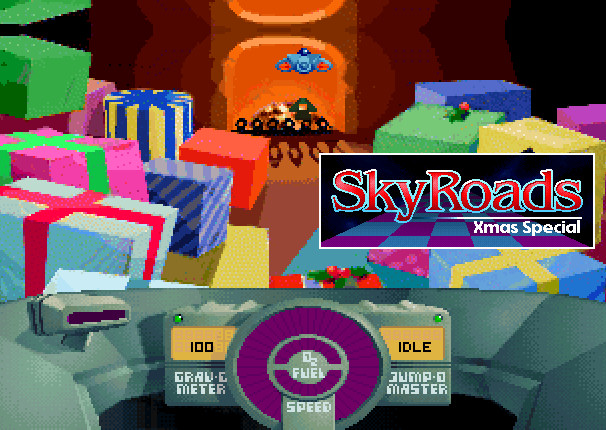 SkyRoads Xmas Special
Creative Dimensions, 1994
Much like Lemmings and Jazz Jackrabbit, popular shareware title SkyRoads received the Christmas treatment with this special demo released in 1994 for the PC. The game plays like the original SkyRoads–the player steers a sliding ship over a 3D obstacle course–but incorporates holiday themes such as snowy levels and a gift-filled backdrop.
You can download the original SkyRoads Xmas Special. If you don't have an old MS-DOS PC to play it on, look into DOSBox or another emulator.
Platform: PC
—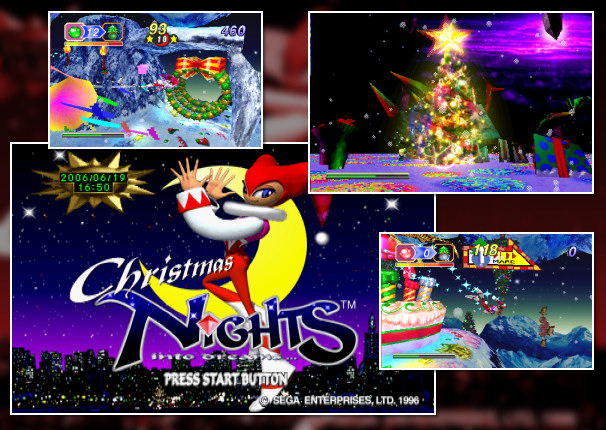 Christmas Nights Into Dreams
Sega Enterprises Ltd., 1996
Anyone familiar with Sega's ill-fated Saturn console has probably heard of Nights Into Dreams, one of the defining games of the platform. Sega released a rare Christmas-themed Nights demo (shown here) as a promotional tie-in with various magazines in 1996. In this version, you guide the flying protagonist of your choice through 3D levels bedecked with Christmas cheer. But that's not all: Thanks to the Saturn's built-in clock/calendar functionality, the demo also changes themes depending on the time of year you play it.
Platform: Sega Saturn
—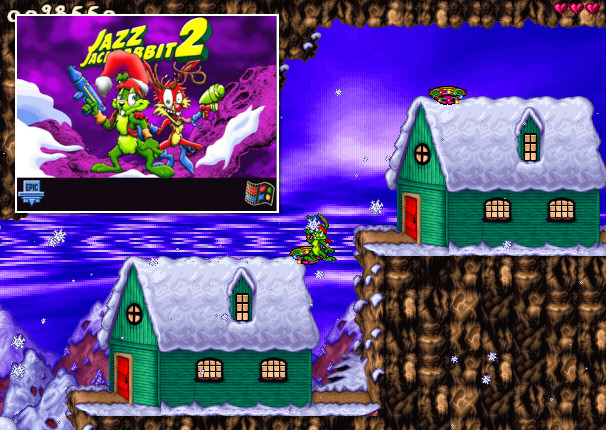 Jazz Jackrabbit 2: Holiday Hare 98
Epic MegaGames, 1998
When it came time to publish Jazz Jackrabbit 2, Epic once again released a Christmas-themed demo for the PC. In Holiday Hare 98, the player controls Jazz Jackrabbit, a green, gun-toting bunny with an attitude, as he speeds through snowy settings and battles viciously cute animal foes.
You can download the Jazz Jackrabbit 2: Holiday Hare 98 demo. It should run on Windows 95 or later machines, but I make no promises about Vista or Windows 7 compatibility.
Platform: PC
—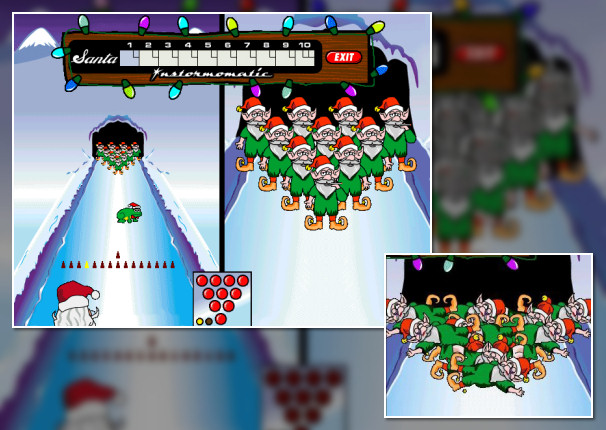 Elf Bowling
NStorm, 1999
We end our jaunt through Christmas gaming history with a silly Christmas classic that set the Internet aflame ten years ago. In Elf Bowling–a self-contained, freely distributable game for Windows–the player controls a disgruntled Santa Claus as he mows down his elf workers (who function as pins) with a bowling ball. In turn, the elves hurl high-pitched insults at Santa, making their eventual collapse at the hands of a bowling ball all the more satisfying.
Though the game is no longer distributed by its creator, you can download and play Elf Bowling. It runs on Windows 95 or later. Happy holidays, everybody!
Platform: PC
—
Original URL: http://www.pcworld.com/article/184889/old_christmas_games.html