July 27th, 2021 by
Benj Edwards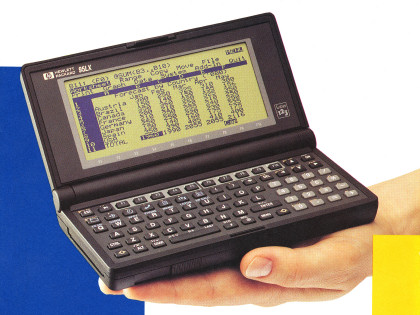 In the mid-1990s, my dad gave me a Hewlett Packard HP 95LX he bought from a friend and never used. The HP 95LX (1991) is a really cool handheld PC that runs DOS from ROM.
While looking for 95LX software around 1997 (according to the file dates, although it's very possible I grabbed them earlier), I went on CompuServe and downloaded a passel of shareware games, amusements, and utilities that were designed specifically for the HP 95LX. Many of them were programmed by David K. Goodman, and they mostly date from 1991 and 1992.
I just ran across these files recently, and I thought I'd share them so they don't get lost. A couple files are text files (like WHY.LX and HP95.HW) that have info on the 95LX. CIS.NP is a list of CompuServe phone numbers. I've zipped them all up in one file, and you'll find the download link below. Here's a file list of what's included:
95-GAM.ZIP
AG.ZIP
BJ95.ZIP
CIS.NP – A vintage list of CompuServe access numbers.
DUNGEO.ZIP – Dungeon! v 0.9 by Kurt M Giesselman
HANGMN.ZIP – Hangman
HP95.HW – Text file info on the 95LX hardware.
HPBRIC.ZIP
HPNEKO.ZIP – A cat that follows you around on-screen.
HPTRIS.ZIP – Tetris
KERM2.ZIP – The Kermit Transfer Utility
KLON95.ZIP
LAY1.ZIP
LGM.ZIP
LIFE95.ZIP
LISMES.ZIP
LKRS95.ZIP
LO95.ZIP
LONC95.ZIP
PEG.ZIP
TALKER.EXE – Speaks what you type through your PC speaker.
TT95.ZIP
WHY.LX – Text file info on the "LX" name meaning.
Download the HP 95 LX Shareware Games Here
I'll probably go back and flesh out this list with game titles and info later. But for now, here it is. Hope you enjoy them! The 95LX is a fun little machine.
—
See Also:
[ Retro Scan ] HP 95LX
The Golden Age of HP Palmtop PCs (PCMag.com)