August 7th, 2007 by
Benj Edwards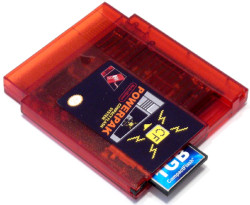 For a Nintendo Entertainment System fan, it's a once-impossible dream finally come true: a thousand games at your fingertips in a real NES console. RetroZone has done it first with the PowerPak, a new NES flash cartridge. With the PowerPak, you can fit every NES game ever made, around the world, onto one cartridge. Dumped ROM images of the games are copied to a compact flash card, which slides into the PowerPak unit itself. Turn on the NES with the PowerPak cart inserted, and you'll see an on-screen menu that lists all the games on the cart. Pick one from the list, you'll be playing the game as if you had the game's original cartridge in the console. With a flash multicart like the PowerPak, NES users no longer need to switch cartridges between games. As an owner of over 250 NES games, I personally have been looking for a product like this for a long time.
Perhaps even more exciting is the PowerPak's potential to jumpstart homebrew development in the NES community. Unlike the Atari 2600, Nintendo's most famous console is woefully lacking amateur home-programmed software. RetroZone is out to change that with their new PowerPak products, which significantly lower the barriers to entry in developing games for play on a real NES unit.
Wither Emulators?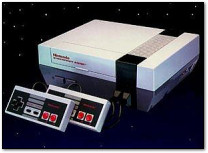 So why should someone want to easily play thousands of NES games on the real hardware when you could do essentially the same thing on an emulator? Well, for one thing, a NES is easy to hook up to your TV. It's small, it doesn't use much power, and it's quiet. It also has a built-in NES controller interface (imagine that). A big factor for me is that emulators will never be able to reproduce the NES playing experience 100%, especially in the display department. The original NES displays its 256 x 240 image on a television set in a native way that a computer video card never could, short of emulating the video output of the NES with a hardware peripheral (something that Brian Provinciano actually whipped up for himself in 2004).
The PowerPak's Secret Sauce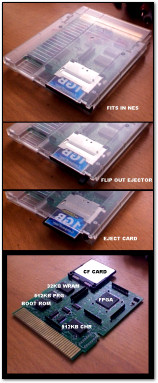 You might wonder why no one has made a reprogrammable flash NES multicart before now. The answer takes us back to the early 1980s, during the design of the Nintendo Entertainment System's progenitor.
The hardware capabilities of the naked NES are far weaker than most would expect, as Nintendo directly based the console on their earlier Japanese-only Nintendo Family Computer (Famicom), released in 1983. The NES can load only 32KB of a program from ROM at a time, which became quite limiting by the mid-1980s. Nintendo quickly figured out a way to bank switch additional sections of larger ROM space to improve the quality and capability of their games' graphics. They did this through the use of physical hardware components called memory management controllers (MMCs or "mappers") that were built into each cartridge. These MMC chips added significant expense to production, but without them, impressive games like Super Mario Bros. 3 would never have been possible.
The secret of the PowerPak's ability to pull off multiple game flash support lies in a relatively recent invention called the field-programmable gate array (FPGA). Before the advent of inexpensive FPGA technology, it was impossible (or at least highly impractical) to build all the many dozens of known MMC chips into one cartridge for use with any possible game. The FPGA chip inside the PowerPak can be dynamically reprogrammed to emulate almost all of the NES memory mappers with software instructions stored on the PowerPak's compact flash card, and that's exactly what happens each time a game is loaded.
How to Get One
As of this writing, The PowerPak is currently listed as out of stock at RetroZone's online store, but RetroZone says more will be available soon. At $135 (US) apiece, the PowerPak falls well outside the realm of impulse purchase, but assuming the cart works as promised, it's well worth the price for all the hard work and development costs RetroZone has put into it. I'd love to get my hands on one and try it out, but I have to wait in line like everybody else. Whenever that happens, I'll let you know if it lives up to its exciting potential.
RetroZone also offers the PowerPak Lite, a fast-cycle RAM cart for all you homebrew developers out there. With any luck, the PowerPak's release will bring the NES homebrew community into full bloom. I, for one, am more than ready to see what the creativity of the homebrew scene will bring to Nintendo's most successful console (not to mention play some new NES games). How about you?
Click here to read VC&G's interview with Brian Parker, creator of the PowerPak.
[ Update (11/02/2007): Click Here to read our review of the RetroZone PowerPak flash cart. ]