December 2nd, 2005 by
Benj Edwards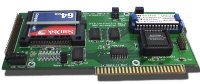 There are really only three groups of vintage computing and gaming enthusiasts out there. One is the purist, who wants to maintain, restore, and operate his vintage systems in a historically authentic manner, using only the technology available at the time, one is the devoted user, who doesn't care how you use the computer, as long as it gets the job done (perhaps better and faster than before), and then there's the tinkerer / hacker who just wants to play around and push old systems to, and beyond, their designed limits.
I'm setting up a special page on Vintage Computing and Gaming to include a collection of links to pages for projects and products involving the interfacing and integrating of modern computing and electronics technology to older computers or game systems — either to replace failure-prone parts, to enhance their functionality, or "just because you can." It's intended mainly for the tinkerer type, but it could also easily be of interest to the devoted user as well.
I'm asking my fellow vintage computing and gaming enthusiasts to come forward and help me assemble this resource for our fellow enthusiasts out there. Additions, corrections, and dead link notices by sources in the online world will be incredibly helpful towards achieving this goal. Feel free to suggest links on the comments section of the page, or to contact me directly using the email link on the VC&G sidebar. I'll be working on improving the organization of the list as it grows, so don't worry.
Here are some suggestions of appropriate things to submit to the page: Ethernet adapters for old computers, modern hard drive / compact flash interfaces, floppy emulators, software design for a modern use on an old machine (i.e. an Atari 800 web server, or an Apple II web browser), new controllers and peripherals for old gaming systems, significantly new peripherals for old computers, CPU upgrades, old computer OS hacks and upgrades, modern clones and replacements for old parts, computers, or game systems, etc. All in all, don't worry; just submit it and if it applies, I'll add it to the list. Thanks so much for your help in advance.