December 2nd, 2005 by
Benj Edwards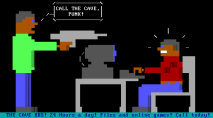 Here are a few more entertaining and interesting validation messages from my archive. For an explanation of what a validation message is, check out the first entry in this series. By the way, check out my new Synchronet Cave BBS at cavebbs.homeip.net port 23.
Subject: log o0n
Name: Kerry Straughn #532 @2
Date: Tue Oct 07 17:03:36 1997
RE: Validation Feedback

Hi, heard about you from the Sanitarium. Pittsboro just got local service to the Apex,Raleigh and Cary areas. Know any other good bbses to try?

[about six blank spaces]

I had this same problem at the Sanitarium. A backslash in the direction of your help screen brings up my com program directory. I don't know how to get out of this screen or if this message will save when I hang up. That's the only way I can get out of here.

HELP ME PLEASE !!
I remember getting stuck in similar situations on other online services before. Especially when telnetting into Compuserve, where I had to manually hit Ctrl-J just to get a new line.
You know, not everybody who called my BBS was silly, bad at spelling/grammar or technologically inept. I'd post some nicely written messages, but they'd be pretty boring.
Subject: hmm…
Name: Tom Violins #380
Date: Sun Nov 17 19:07:04 1996
RE: Validation Feedback

changes changes… it's been a LOOONG while since i've called here. let's see you might not remember me… i was uhm Mr Self Destruct, Bad Acid, uhm Liquid Jesus… anyway, it's been a while.. access would be appreciated (and appropriate) just kidding. well, no, it would be appreciated..

anyway, uhm hope things are going cool… just stay away from dat crack, man!

tom violins
Reading other people's colorful and interesting BBS aliases was a large part of the fun of BBSing. Ah. The good 'ole days.