April 28th, 2008 by
Benj Edwards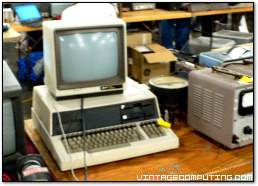 A couple weekends ago, I made the requisite annual trek to RARSfest, my local hamfest of choice, which takes place on the NC State Fairgrounds. You might remember my in-depth slideshow on a similar hamfest adventure two years ago. Well, this year I decided to take a few shots of the 'fest again, and I thought you might enjoy them. So hop in the HamCar, and we'll take a quick ride through RARSfest 2008.
The Complete Haul
Here's everything I picked up at RARSfest 2008, sorted by price:
Free – 10″ B&W VGA monitor
Free – Panasonic PV-SD4090 Digital Camera (uses SuperDisks)
$1 – 1 Apple USB Pro Mouse (Black)
$3 – 3 Apple USB puck mice
$3 – Cybiko w/MP3 Player accesory
$3 – Detached teletype keyboard
$4 – USB Superdisk Drive
$7 – Zenith Z-110
$5 – Power Mac 7500
$10 – Zenith Z-110 w/monochrome monitor
$10 – Compaq Contura Aero 4/25 Laptop
$10 – Handspring Palm Visor Deluxe
$15 – Mac Quadra 950 (w/lots of ram and big HD)
$25 – Apple Powerbook Duo 280c
$25 – 1024×768 Color LCD Projector Screen (w/case)
Total Spent: $121 (US)
That should keep me busy for the next few months. If nothing else, it's given me lots of exercise while trying to make room for it all.
I hope you enjoyed the trip. You'll probably hear from me again next year with a similar report. Until then, this is Benj saying, "Keep on Hammin'" — or something like that.