April 30th, 2008 by
Benj Edwards
We're back. Last week's Fuzzy Memory mysery was such an astounding success that we've received another request from someone seeking resolution of their distant childhood gaming memories. I'm not a fount of infinite knowledge, so like always, I need the adept VC&G readership to help solve the mystery.
Spirits of Ancient Egypt
Julia, from Australia, wrote me a few days ago regarding an electronic handheld game from her past:
G'day red

I'm hoping you can help me locate a game I played when I was a child. I live in South Australia. The game was a handheld game made around 1981 with a lcd screen. The name Tutankhamen comes to mind but it may have been called something else, but I'm pretty sure it had an Egyptian theme. I don't remember how the game was played, I only remember what it looks like. It may have been red in colour, small between 10-20cm wide an I recall it had a little black stand attached to the bottom of it. I think it was modelled after the 2 player tabletop arcade games except a mini version.

Your help would be much appreciated!

Cheers

-Julia
So, here we pick up some key clues: (a) the game might have been called Tutankhamen, (b) it had an Egyptian theme, (c) it was probably manufactured around 1981; (d) it used an LCD for a display; (e) it was handheld (likely battery-powered); (f) it was red with a black stand, and (g) it was possibly modeled after a tabletop arcade game.
I don't recall many LCD handheld games being made around 1981 — most used LEDs. So that detail (or the date) may very well be fuzzy. No offense to Julia, of course, but it's also easy to confuse LCD with LED if you don't quite know the difference. A 1981 LCD game is possible, though, so keep both options in mind.
It should also be noted that Julia lives in South Australia. That might factor heavily in your search.
The Search Begins
So what do you guys think? We need your help in identifying the game described above. If you have any ideas, please leave a comment on this post. Julia will be checking out your responses, so she might be able to clarify some details if needed. The game is afoot!
Update: 04/30/2008
That didn't take long. VC&G reader and Fuzzy sleuth extraordinaire Layne found a 1980s handheld unit that seems to perfectly match Julia's description on the Handheld Games Museum website. It's called Tutankham and it was manufactured by Bandai. Here's a picture: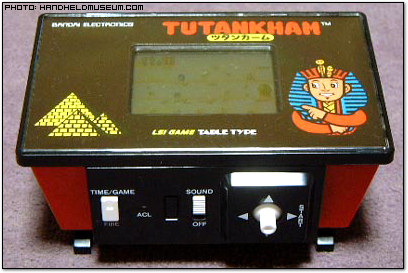 So now we turn to Julia to see if, in fact, this is the correct unit. Keep an eye on the comments for the latest developments.
—
Have a memory of a computer, video game, computer software, or electronic toy you need help identifying? Send me an email describing your memories in detail. Hopefully, the collective genius of the VC&G readership can help solve your mystery.