May 5th, 2008 by
Benj Edwards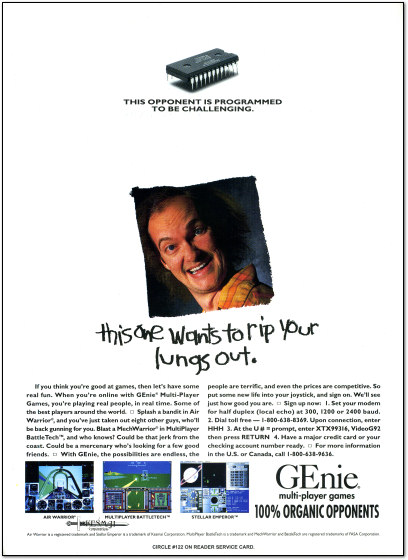 An excellent source of FDA Certified non-GMO 100% organic, free-range people.
Tired of trouncing lifeless, boring computer chips in your games? Then you've come to the right place. Here at GEnie, our entire subscriber base is clinically insane and writes exclusively in crayon. Signing up is easy. Here's how:
1. Set your modem for half duplex (local echo) at 300, 1200, or 2400 baud.

2. Dial toll free — 1-800-638-8369. Upon connection, enter HHH.

3. At the U # = prompt, enter XTX99316, VideoG92 then press RETURN.

4. Have a major credit card or your checking account number ready.
Make sure you get step #3 exactly right, or you might end up one kidney short after accidentally subscribing to Nigerian Cyber Exchange.
[ From Video Games and Computer Entertainment, November 1992 ]
Discussion topic of the week: When was the first time you played a computer game over a modem or computer network? Describe your experience.
If you use this image on your site, please support "Retro Scan of the Week" by giving us obvious credit for the original scan and entry. Thanks.