July 7th, 2008 by
Benj Edwards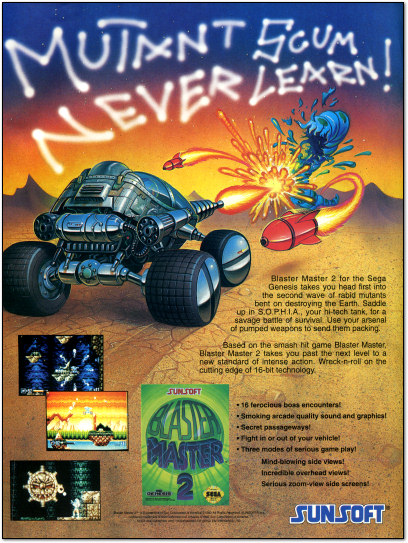 "Mutant scum never learn!"
Being a huge fan of the original Blaster Master for the NES, I went gaga when I first discovered that Sunsoft had developed (yes, I missed it at the time, along with everyone else) a Blaster Master 2 for the Sega Genesis. And so it was that BM2 became one of the first Genesis games I emulated on a PC in the mid-late 1990s. And I was disappointed.
If you get past Blaster Master 2's horribly tinny FM-synthesis music, you'll find a cartoonish technicolor imitation of the original. BM2 somehow lacks the epic feel of the original Blaster Master (maybe it's the color palette), and instead resembles a straight-up Turrican-esque 16-bit platform shooter. Still, if I could get past the first stage (and turn down the volume), I feel like BM2 might be fun.
[ From Electronic Gaming Monthly, June 1993 ]
Discussion topic of the week: What's your favorite Sega Genesis / Mega Drive game of all time?
If you use this image on your site, please support "Retro Scan of the Week" by giving us obvious credit for the original scan and entry. Thanks.