December 21st, 2005 by
Benj Edwards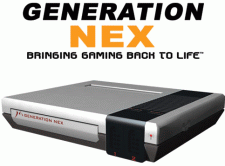 Heh. And I thought all this NEX stuff was over. It has come to my attention that IGN posted a review of the Generation NEX yesterday on their site. And what's more, they gave it a 9.5 out of 10. Whoa. They must have been on nostalgia overdrive to hand out a score like that to a piece of absolutely mediocre hardware. Considering that the reviewer probably hadn't played a NES game since 1992, I can almost forgive him for his enthusiasm ("WHOA!! You can still play NES games?! Dude!!"). What's more, IGN was apparently provided a set of Messiah's wireless controllers for free (which cost $59.99 and don't come with the unit) and that probably significantly improved their overall impression of the NEX. They should have reviewed the wireless controllers separately. I know that whether one likes/dislikes the NEX is really a glass half-full or half-empty issue, but the NEX's glass is definitely not full enough to warrant a 9.5. I don't know if I should be suspicious of IGN's review integrity, or if they just don't know any better.
I stand firmly by my review. But of course, I also respect the opinions of others who actually like the NEX. At least most of those people have the sense to take a realistic look at it (like my buddy Jake at 8-Bit Joystick).
Update (12/23/2005): I'm not the only one who thinks IGN's review is weird. Take a look at this thread on the AtariAge forums.