January 7th, 2009 by
Benj Edwards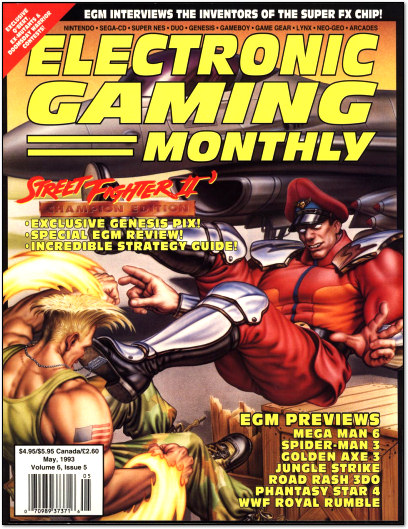 In Memoriam: EGM (1989-2009), American video game magazine par excellence.
As far as I can recall, this is the first issue of Electronic Gaming Monthly I ever bought. I spotted it on a newsstand in a grocery store and begged my mom to buy it for me. Over the next few months of 1993, I bought each new issue from the same source until I convinced my parents that it would be cheaper just to subscribe. So they signed me up, and I've been a subscriber to EGM ever since.
Until now. Troubled publisher Ziff-Davis — owner of the 1UP Network and EGM — recently announced the sale of its 1UP property to UGO Entertainment. Sadly, EGM isn't going along for the ride, but is instead shutting down. January 2009 will be the last issue of EGM in print.
Prior to discovering EGM, my only exposure to video game magazines had been Nintendo Power, the official Nintendo-sanctioned magazine devoted only to Nintendo products. As a publication, Nintendo Power spoke with a sterile, self-censoring voice that was low on speculation and high on propaganda. In contrast, EGM, with its edgy style, gossip column, international coverage, and devotion to multiple platforms (including arcade! — that blew my young mind), opened up a whole new side of the video game industry to me and ignited a passion for the field that persists to this day.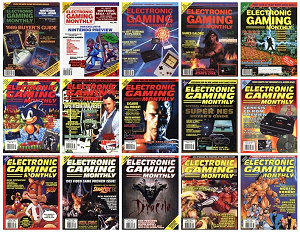 As a writing professional, EGM's closure stings for reasons beyond simple fandom. Since writing for 1UP.com and visiting EGM's offices in early 2008, I've been fortunate enough to befriend a number of EGM's editors and staff. As news goes around that over 30 employees' jobs fell victim to the shakeup, I find myself wincing and hoping the best for all of my colleagues in writing and publishing. Those that met the unsparing axe of nickel-and-dime economics will likely find new jobs elsewhere in time — hopefully sooner rather than later. Until then, I wish them the best of luck, and I'd like to thank EGM's staff (past and present) for twenty years of incredible, inspiring work.