January 5th, 2009 by
Benj Edwards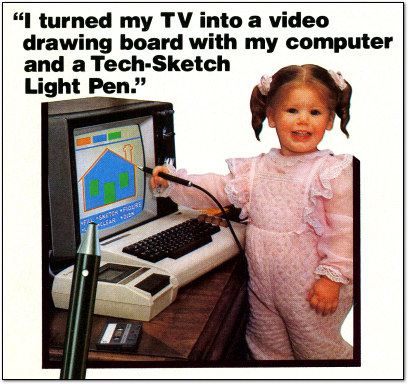 Click above to see the full advertisement
This ad for Tech-Sketch's Paint-N-Sketch Level II brings back memories. My first encounter with computer art came courtesy of KoalaPaint and the KoalaPad tablet on the Atari 800. Later, I fell in love with MousePaint on my family's Apple IIc. Using the mouse and creating shapes on the screen was a magical experience, and I regularly begged my father to boot it up for me so I could doodle around in four glorious colors. Because of the program's title, I was convinced it had something to do with Mickey Mouse.
Not too long after, my dad sold the Apple IIc, and I lacked an outlet for computer art until he bought a Macintosh SE in 1987. But that's another story all together. Now it's your turn.
[ From Electronic Games, December 1983. ]
Discussion topic of the week: Tell us about your first computer art experience. What computer and software did you use?
If you use this image on your site, please support "Retro Scan of the Week" by giving us obvious credit for the original scan and entry. Thanks.