January 19th, 2009 by
Benj Edwards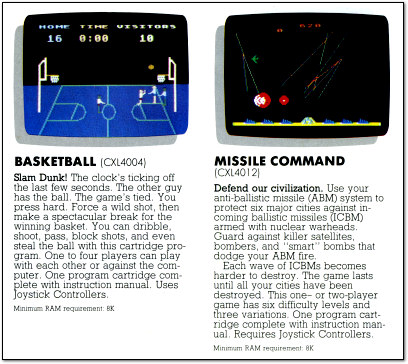 Click above to see the full page scan
Here's a scan of Basketball's appearance in a 1982 Atari product catalog for their 8-bit home computer line. Basketball, programmed by Alan Miller, is notable for possibly introducing the first obviously black video game character. And hey, it's also the first game I remember playing.
[ From Discover the World of Atari Home Computers, 1982 ]
Discussion topic of the week: What is the significance, if any, of the first black video game character appearing in a basketball game, rather than a game based on another subject matter?
If you use this image on your site, please support "Retro Scan of the Week" by giving us obvious credit for the original scan and entry. Thanks.