April 6th, 2009 by
Benj Edwards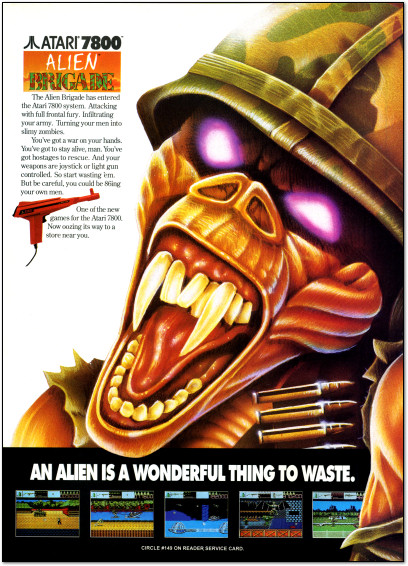 A classic case of fist-cheek syndrome.
Now here's something you don't see every day: a print ad for an Atari 7800 game. Moreover, a print ad for an Atari 7800 game in 1990. Moreover, a print ad for an original Atari 7800 game in 1990.
An advertisement like this seems odd because Atari's marketing budget for the underwhelming 7800 was very modest. My guess is that the release of the Atari Lynx in the year prior injected renewed vigor into Atari's marketing efforts. The same vigor likely prompted Atari to publish a handful of new 7800 titles around 1990-91, of which Alien Brigade was one. From what I've read, modern Atari fans enjoy this rare light gun game, but I've never played it.
[ From Video Games & Computer Entertainment, November 1990 ]
Discussion topic of the week: Do you think that the Atari 7800 could have better taken on Nintendo if Atari had marketed it better? Also, feel free to share your favorite Atari 7800 games.
If you use this image on your site, please support "Retro Scan of the Week" by giving us obvious credit for the original scan and entry. Thanks.