December 7th, 2009 by
Benj Edwards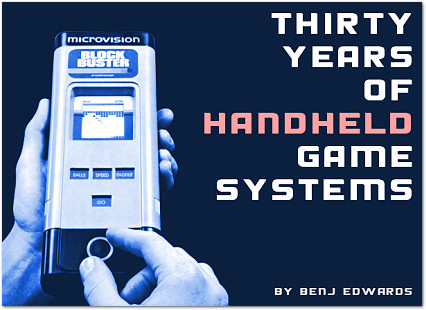 My latest PC World article celebrates the 30th anniversary of the Milton-Bradley Microvision with a look back at handheld game systems of the past. Here's an excerpt from the introduction:
Thirty years ago this fall, Milton Bradley released the world's first handheld video game system with interchangeable cartridges, the Microvision. Prior to 1979, handheld electronic games were stuck with one predetermined game (or set of games) per unit. After the Nintendo Game Boy debuted a decade later, the market for cartridge-based handheld devices exploded, inspiring hardware vendors both prominent and obscure to release gadgets for playing multiple games on the go.
I spent quite a bit of time hand-crafting the slides (and writing the text, of course), so I think it's one of my better slide shows. I hope you enjoy it.
As a side note, the anniversary of the Microvisions's release was actually last month (November 2009), but due to delays in PC World's publishing schedule, my article was pushed back until now.