December 7th, 2009 by
Benj Edwards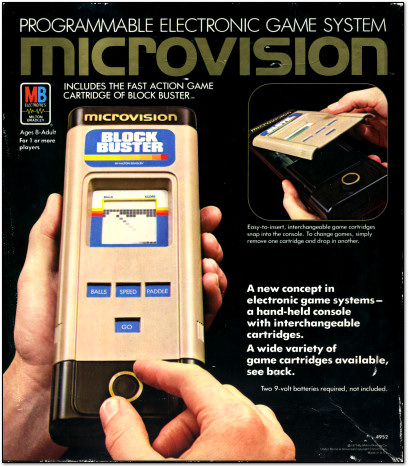 A Well-Loved Milton-Bradley Microvision Box (Front)
[ From Milton-Bradley Microvision Box (Front), ca. 1979 ]
Thirty years ago last month, Milton-Bradley released the world's first handheld game console with interchangeable cartridges, the Microvision. As a result, the Microvision was the first handheld "system" in the classic sense: it allowed the user to play numerous arbitrary software titles on a single base console.
As you may have read in my last VC&G post, I recently celebrated this anniversary over at PC World with a slideshow of handheld system history.
It always pains me when I don't have the time to write up an in-depth history of the subject I'm focused on at any given time, so to compensate a bit, I'd like to share some scans of assorted Milton-Bradley Microvision paraphernalia that I've assembled.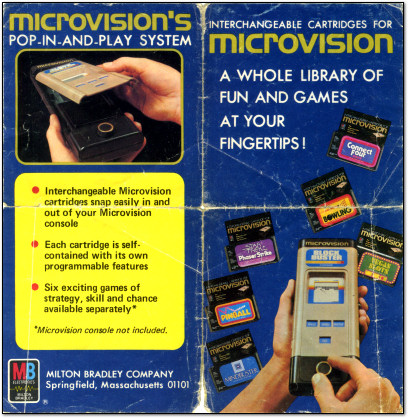 Click above to see the front and back of the flier.
[ From Milton-Bradley Microvision Flier, ca. 1979 ]
Seen above is a small, unfolded 5.75″x5.8125″ flier that I acquired when I purchased my Microvision set many years ago. It was in the Microvision retail box I received, so I'm not sure if it came with the console itself, or if the previous owner acquired it through some other means. On the back (which you can see if you click the image above), it describes and provides screenshots of six different Microvision games.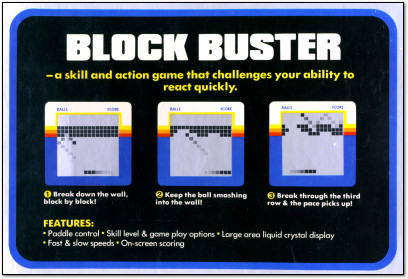 Blockbuster information from back of Milton-Bradley Microvision box
[ From Milton-Bradley Microvision Box (Back), ca. 1979 ]
Above is a snippet from the back of the Microvision retail box. It describes
Blockbuster
, the Microvision's original pack-in game, which (to my knowledge) was included with every Microvision unit sold in the United States. Notice the Microvision's expansive 16×16 LCD display.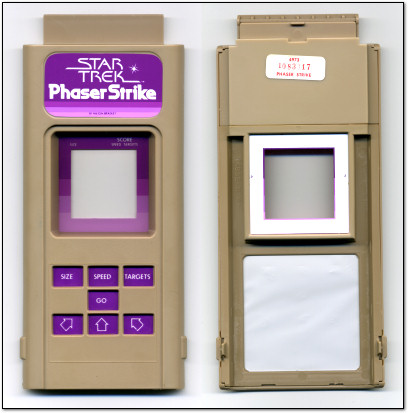 Star Trek: Phaser Strike Cartridge
And last, but not least, is a scan of the front and back of your typical Microvision game cartridge (in this case, Star Trek: Phaser Strike). Each cartridge came with its own built-in controller overlay (a thin, flexible rubbery printed sheet in a hard plastic grid) that defined which buttons did what for the player.
Each cartridge also included its own CPU in addition to the game code in ROM, so the Microvision console itself was merely a dumb LCD receptacle in some respects. As a result, different CPUs powered different games in some instances — probably the first (and last) time that happened in the video game world.
Overall, the Microvision was an odd machine — very obscure, very underrated, and very forgotten at the moment. Hopefully you readers out there can chime in with your own Microvision memories.
Discussion Topic of the Week: What's your favorite handheld video game console of all time?