January 25th, 2010 by
Benj Edwards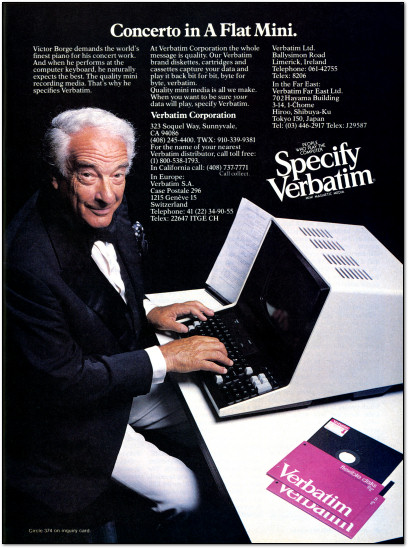 So that's how you write music.
Yes, it's Victor Borge hawking Verbatim floppy diskettes. Despite his goofy grandpa-humor presence, "Specify Verbatim" still stands as the geekiest slogan in advertising history. It's almost begging for the nerdy hipster t-shirt treatment. I'll let you wear it for me.
If you want to see more computer ads featuring celebrities, check out this slideshow I did for PC World back in April 2008. Unfortunately all those scans are tiny due to image size limitations PC World had back then. You can see larger versions of a few ads that were taken from previous Retro Scans here: 1 2 3 4
[ From BYTE, November 1979, p.25 ]
Discussion Topic of the Week: Who's your favorite celebrity computer or video game spokesman of all time?