April 26th, 2010 by
Benj Edwards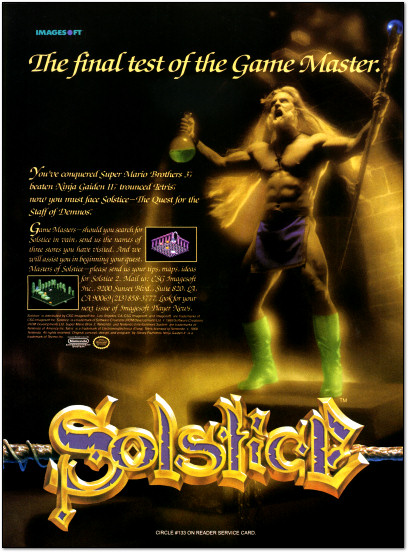 Our hero stands alone in a dungeon, screaming profanities at the ceiling.
You might remember our intrepid hero, a loincloth-bedecked body builder, from last year's VC&G Halloween Costume Ideas. This beefcakey portrayal of Solstice's main character is as amusing now as it was then, so I figured it deserved its own RSOTW.
The character's name is actually Shadax, if you're interested. If you're not, I don't blame you. He's not normally like this, I swear. Shadax wears a modest, body-enveloping robe throughout the entire game. He only gets naked when he's had too much of the 'ole Green Fairy.
[ From Video Games and Computer Entertainment, April 1991, p.75 ]
Discussion Topic of the Week: What's your favorite NES puzzle game? For bonus points: what's the most obscure NES puzzle game you can name?