August 23rd, 2010 by
Benj Edwards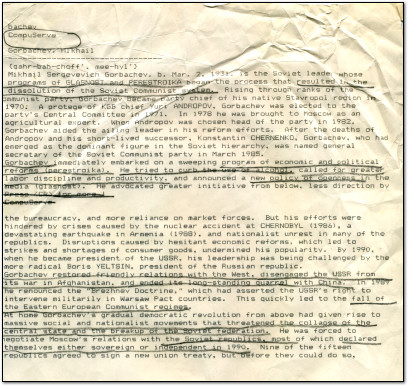 "Press <CR> for more"
For my sixth grade social studies class, I wrote a report on Mikhail Gorbachev, former President of the Soviet Union. And he really was "former" then — the USSR had fallen apart just two years prior to my report in 1991. For that report — which I ran across recently — I used every resource available to me, including a novel one at the time: Grolier's Encyclopedia on CompuServe Information Service. My family subscribed to CompuServe — that massive, pre-ubiquitous-Internet dial-up service that cost amazingly large fees an hour — and I loved it.
What you see above is part of the Gorbachev encyclopedia entry in the form of a dot-matrix printout from the DOS version of CompuServe Information Manager (a front-end client for CompuServe) that I printed myself. Various lines are crossed out and underlined, noting areas of interest that I was to paraphrase for the report. This wasn't plagiarism — I even cited the online encyclopedia in my report's bibliography. That fact is actually kinda impressive to me in retrospect.
CompuServe's online encyclopedia was amazing at the time (1992-1993 era). It was so easy to just search for a term, look it up, and print it out. It sure beat our family's musty 1968 World Book Encyclopedia set that I used for every report prior to this one (yes, the information in my reports was often woefully out of date). For Christmas 1993, my dad bought us Microsoft Encarta on CD-ROM, and that served as the meat of my school reports for the next few years after that. But that's another story entirely.
[ From Grolier's Academic American Encyclopedia (CompuServe printout), 1993 ]
Discussion Topic of the Week: When did you first use an electronic encyclopedia — CD-ROM or otherwise? What did you use it for?