February 19th, 2006 by
Benj Edwards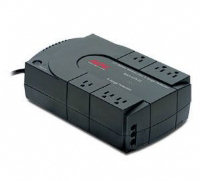 Here's a quick gaming tip that especially applies to those of you with shoddy power companies. For years, it seemed my house would have power flashes at least a couple times a month. There was something about the power on my block that was especially unreliable (nearby transformers seemed to blow all the time), and it got really annoying. Naturally, I got UPS (Uninterruptible Power Supply) units for all my computers early on so the flashes wouldn't affect them. For those of you who don't know, a UPS is essentially a box with a rechargeable battery in it that stays plugged into a wall outlet, and the devices to be "protected" are, in turn, plugged into the UPS. When the power is on, the battery in the UPS is kept constantly charged. But when the power goes out, the battery switches over, seamlessly providing continuing power to the protected outlets on the unit for as long as the battery holds out, or until the power comes back on — whichever comes first.
UPSes for computers are quite common these days (I consider UPS units for computers an absolute must), but there were a few occasions where I would be playing a long video game (that I couldn't save) and the power would flash, making me lose all my progress. The last straw happened a little over a year ago when I was completely playing through Super Mario Bros. 3, trying to go through every level and explore every secret, just for old time's sake. I played one day for probably about six hours until I got to world 8, then I took a break. The break lasted longer than one day, however — I left the NES on, intending to finish it later. But by the time I got back to the game, I discovered that the power had flashed, resetting the system and losing my progress. After that, I immediately ordered a UPS to cover all my game systems and prevent the same thing from happening in the future. Now all my game systems are on UPSes, whether classics like the NES or modern systems like the Xbox.
If you'd like to get a UPS unit for your game system(s), I have a few tips. The first is to get the cheapest unit possible. It doesn't have to be an industrial-strength, heavy-duty UPS that will keep your game running for an hour or more while the power is out. Usually you're only combating intermittent power flashes, so you only need one with a modest battery capacity. Tiger Direct used to sell a cheap, no-frills UPS unit for about $20, but it seems that they don't carry those anymore (I bought about four of them a few years ago for various computers, and they still work well). Instead, go for something that is under $40 US, as a general guideline. A refurbished unit probably wouldn't be bad either, as long as it's from a trusted source. Again, remember that we're not trying to protect mission-critical servers here, but to simply prevent power flashes from messing up your game. Sure, a UPS is extra cost, but investing in one now could possibly save you lots of headaches, frustration, and smashed controllers in the future.