November 1st, 2010 by
Benj Edwards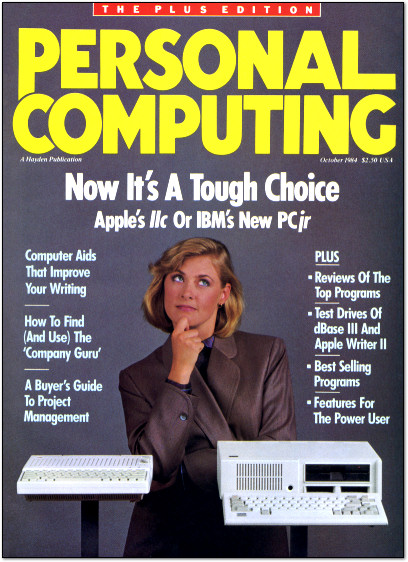 Shades of Tasha Yar
If you were shopping for a home PC in 1984, you were bound to face this decision: should I get an Apple IIc or the flashy new IBM PCjr?
From late 1983 to early 1984, the press hyped the PCjr to absurd proportions, which set IBM's consumer machine up for a mighty fall not too long after its introduction (IBM withdrew it from the market within a year of its release). The Apple IIc, on the other hand, was one of Apple's more successful products of the era. Apple won the battle, but IBM won the war with the PC line overall.
(…or did they?)
[ From Personal Computing, October 1984, front cover ]
Discussion Topic of the Week: It's 1984, and you can only buy one computer: an IBM PCjr or an Apple IIc. Which one will you choose and why?